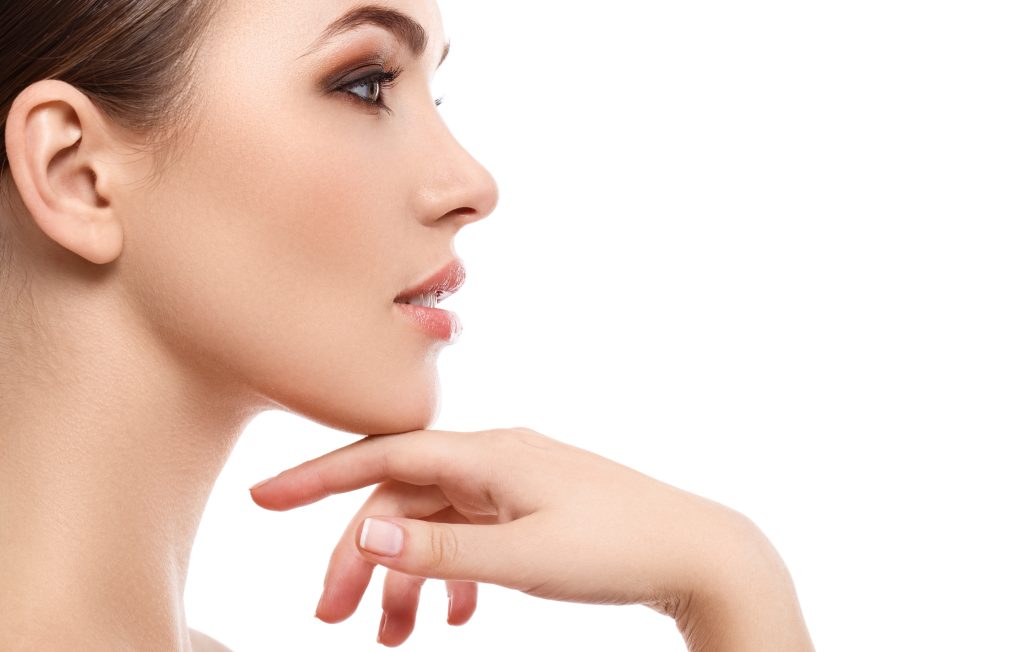 Open rhinoplasty is a plastic surgery technique that reshapes the nose with minimal scarring. Unlike closed rhinoplasty incision techniques that go around the nostrils, a surgeon performs an open rhinoplasty by placing an specialized incision on the underside of the nose between the nostrils. Many surgeons prefer this technique because it gives them open access to the treatment site for more precise adjustment.
Your nose is the focal point of your face, so if you're unhappy about how it appears, it can be distressing. People choose to undergo a "nose job" for a variety of reasons, including to help them breathe more easily, however, many people also want to change their noses for cosmetic reasons. A patient can choose to reduce the curvature in their nose, adjust the length or width of their nose, or even alter the very tip (tip plasty) to a more aesthetically pleasing shape. In the hands of a top-class surgeon, there are so many possibilities! So, if you're ready to make that change, and you want to discuss the next steps to book your rhinoplasty, call Harley Surgery. With two offices in London (Harley Street and Highgate), and offices in Birmingham and Manchester, renowned plastic surgeon Dr Riccardo Frati is here to help you get the look you want. As a plastic surgeon to the stars, he has the knowledge and experience to help you reach your facial aesthetic goals!
Get in touch with us! You can contact our friendly staff by calling (020) 3633 2619. We will get back to you regarding your request at the earliest available time.
Before & After Photos
Before and After Photos
What is Open Rhinoplasty?
Rhinoplasty is one of the most complex surgical procedures in plastic surgery. (1) But equally, it serves as one of the most striking and successful when performed by an experienced surgeon. In an open rhinoplasty, a surgeon makes a precise incision in an area of the nose called the columella. The columella is the narrow strip of tissue on the underside of the nose that separates the nostrils. It is visible when you tilt your head back and look into the mirror. It forms the visible margin of an area called the nasal septum.
What is the Nasal Septum?
The nasal septum consists of cartilage and bone and serves as the central divider between the right and left nostrils. If your septum is not aligned in the center of your nose, it may be "deviated". There are many reasons a patient could have a deviated septum. You could have had one since birth, or it may develop after an injury to the nose. The symptoms of a deviated septum include:
Nasal Congestion
Runny Nose
Post-Nasal Drip
Nosebleeds
Sinus Pain
Mouth Breathing
Open Rhinoplasty vs. Closed Rhinoplasty
One of the clearest advantages of opting for an open rhinoplasty is that your surgeon can see the nasal cartilage very clearly during the procedure. By accessing the nasal tissues from below via a columellar incision, your surgeon can see exactly what's going on inside your nose anatomically. This extra visibility lends itself to more accurate nasal adaptation. Although a closed (endonasal) rhinoplasty is simpler, therefore meaning the recovery time is shorter, it does not afford surgeons this accuracy and freedom.
If a surgeon can directly visualise the surgical manoeuvres they are performing, not only can they enhance diagnostic accuracy and correction of any conditions, but they can also help other team members see what's going on during the procedure. (2) In addition to this, reasons why patients choose a rhinoplasty may include:
Creates more harmonious facial dimensions
Corrects nasal bumps or ridges
Reduces nose width
Can reshape nostrils
Corrects deviated septum
Can improve breathing
Can improve self-esteem
Candidates for Rhinoplasty
A patient can choose a rhinoplasty procedure to correct any functional or cosmetic deficits of the nose. (2) So, if you have a congenital nasal feature you wish to alter, if you developed one later in life, or if you are simply dissatisfied with the size or shape of your nose, you are a good candidate for rhinoplasty! This surgery may not be suitable for people who have:
Elevated risk of nasal trauma (e.g. playing contact sports)
Vasomotor rhinitis (chronic congestion/inflammation)
Obstructive sleep apnea (breathing interruption during sleep)
Poorly controlled hypertension (high blood pressure)
Diagnosed body dysmorphic disorder (BDD)
Active or prior illicit drug use via the nose
Personal Consultation
Dr Frati is a renowned plastic surgeon, not only on Harley Street, but throughout the country! He takes time to get to know his patients through a personal consultation before each procedure. At this time, you can talk to him about the cosmetic or functional nasal problems you are facing. He will examine your nose from all aspects and will make a photographic record of the dimensions of your nose.
At Harley Surgery, we use computer-generated simulations to show our patients what their postoperative aesthetic could look like! These images, presented in 3D, allow for clarity moving forward so that you can choose from a variety of looks, and everybody knows what the goal of the rhinoplasty is! Once you have thoroughly discussed the nasal aesthetic you want, Dr Frati will formulate your rhinoplasty treatment plan.
See what's happening at Harley Surgery and read more about the plastic surgery and non-surgical services we offer on our blog! You can also stay up-to-date with our latest specials on our website!
Preparation for a Rhinoplasty Procedure
Dr Frati will provide individual preparation instructions for your specific circumstances at your private consultation. Generally speaking, you should get your prescriptions ahead of time and maintain a healthy diet in the days leading up to your surgery. Patients should stop taking certain medications that can cause complications, such as blood-thinners (e.g. aspirin, ibuprofen). Because of possible swelling and anaesthetic side-effects, you won't be able to drive yourself home. Please arrange a lift home with a trusted friend or family member on your surgery day.
Open Rhinoplasty Procedure
Dr Frati performs open rhinoplasty procedures on an outpatient basis at our London and Manchester locations. This type of surgery can be performed under general or local anaesthetic.
To start the procedure, Dr Frati makes strategically placed and shaped incisions in the columella of the nose. Then, he carefully folds the nasal skin back to expose the nasal septum and interior. At this time, if necessary, he will correct septum deviation, restoring symmetry and balanced air flow through the nose. He will then conduct the necessary aesthetic surgical adjustments as outlined in your personal treatment plan, and bandage the area for a speedy recovery.
Most rhinoplasty procedures take between two and three hours to complete, but each procedure length will vary depending on individual patient anatomy and goals.

Make a date for your rhinoplasty at Harley Surgery in London, Birmingham, or Manchester! Fill out our quick online form or contact us by ringing (020) 3633 2619.

For rhinoplasty, ethnic rhinoplasty and rhinoplasty revision, look no further than Dr Frati!
Recovery After a Rhinoplasty Procedure
An open rhinoplasty allows for greater accuracy during a procedure, but as a result, your recovery time may be longer in comparison to closed rhinoplasty. It is normal for the nose and the area around the nose to experience swelling that may impede vision in the weeks following a procedure. At Harley Surgery, we make sure our patients are fully prepared for their recovery, so you'll receive an aftercare package with detailed instructions. This may include the following advice:
Take 2-3 weeks of work to recover
Avoid any strenuous activity
Avoid blowing/touching your nose
Do not wear glasses/sunglasses
Counter bruising and swelling with ice packs
Control discomfort with prescribed pain relief
It is vital that the status of your rhinoplasty is monitored after surgery so you get your desired results. We will arrange a follow-up appointment with Dr Frati to ensure you are healing as expected.
Join 250K (and counting!) followers and see the latest celebs on Dr Frati's Instagram and remember to like and follow him on Facebook and Twitter!
Results of Open Rhinoplasty
In a few weeks, the swelling on and around your nose will dissipate. After your bandages are removed, you will see your new facial aesthetic!
Rhinoplasty has a high revision rate. In this case, Dr Frati will look after you throughout the process and is here to adjust or revise your rhinoplasty result if this is required.
Cost of Open Rhinoplasty in London & Manchester
An open rhinoplasty is a patient-specific procedure with many different individual factors to consider. As a result, the cost of your procedure will vary. Please book a personal consultation to discuss pricing with Dr Frati at your convenience! Patients in London (Harley Street) and Manchester can call us on (020) 3633 2619 or inquire via our online form.
FAQ
Why do people get open rhinoplasty procedures?
Open rhinoplasty is usually a surgeon preference. Because of the location of the incision, an open rhinoplasty allows easier access to nasal structures and, as a result, greater accuracy when adjusting the size or shape of the nose. You can discuss both open and closed rhinoplasty options with your surgeon at an individual consultation.
Can I get a rhinoplasty if I can't breathe through one nostril?
Although each patient has individual needs, if you cannot breathe through one nostril because of a structural difference in your nose, you may have a deviated septum. In such cases, you may be able to receive rhinoplasty treatment from a plastic surgeon to rectify this.
Who is a good candidate for a rhinoplasty?
breathing/air flow issue) or a cosmetic one. The best course of action is to speak to a licensed plastic surgeon who performs rhinoplasty surgery to discuss your options.
References
Fichman, M., & Piedra Buena, I. T. (2020). Rhinoplasty. PubMed; StatPearls Publishing. https://www.ncbi.nlm.nih.gov/books/NBK558970/
Raggio, B. S., & Asaria, J. (2021). Open Rhinoplasty. PubMed; StatPearls Publishing. https://www.ncbi.nlm.nih.gov/books/NBK546628/