Rhinoplasty (Nose Job)
Conveniently located to serve the areas of London, Manchester, Highgate and Birmingham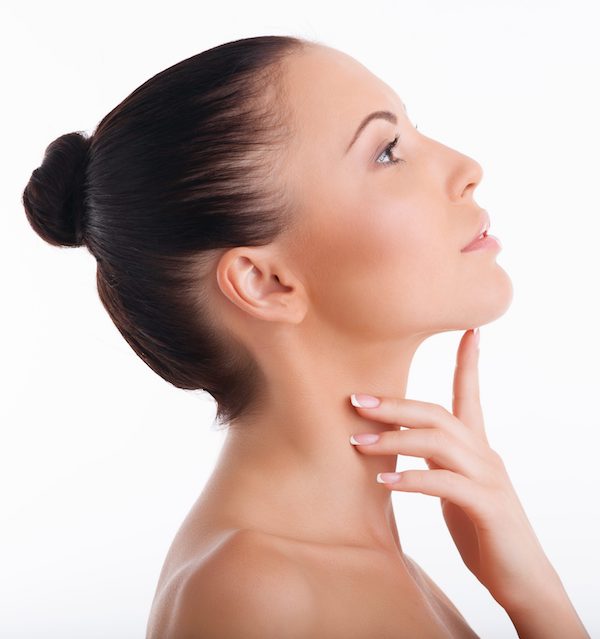 Your nose is the focal point of your face. It plays a large part in the harmony of your features. Rhinoplasty (or "nose job") can be both a cosmetic and practical procedure, improving your appearance while boosting your ability to breathe.
In the hands of an experienced cosmetic surgery specialist like Dr Riccardo Frati, you can restore balance and symmetry to your face. Contact our offices in London or Manchester to schedule your personal consultation. Call us: 0203 633 2619
What is Rhinoplasty?
Rhinoplasty is a surgical procedure to correct unbalanced facial aesthetics; it may also improve the function of your nose. Dr Frati performs rhinoplasty to improve the shape of your nose as it relates to the symmetry of your face. The bridge of the nose is often a point of focus in a nose job. Dr Frati can smooth your profile by reducing bumps and improving depressions. These corrections will make the shape of the nose more defined.[1]
Perhaps you find the tip of your nose troublesome? Patients interested in a nose job are often bothered by a large, drooping, hooked or upturned nose. Dr Frati can easily correct these issues.
Dr Frati recognizes that everyone's nose is different. He will work hard to create a treatment plan that addresses your concerns and achieves a beautiful result. Familiarize yourself with all the doctor's wondrous procedures by reading our blog.
Before and After Photos
Your Nose Job by Dr Frati
A rhinoplasty with the talented Dr Frati will end in beautiful results. He achieves a natural look that is never "overdone." Dr Frati respects the proportions of your anatomy. He will act deliberately to achieve your desired aesthetic.
No matter your goal, Dr Frati will work with you to improve your features—you will fall in love with the results!
Dr Frati is the plastic surgeon of choice for Instagram influencers and heavenly celebrities! His frequent media appearances stand as a testament to his skill. Dr Frati has extensive experience in successfully performing Rhinoplasty Revision, having treated many challenging cases. The doctor has performed nose jobs for an ethnically diverse clientele with a range of nose shapes.
Whether you want a slight improvement or a complete transformation, Dr Frati can do it! He goes above and beyond to ensure your nose is artfully sculpted. In difficult cases, he uses the most advanced technique: cartilage graft. The graft delivers the best outcome possible for his patients.[2] 
There are two surgical approaches to the nose job, detailed below.
Open Rhinoplasty
An external, or open rhinoplasty, implements a trans-columellar incision that connects the channel between the two nostrils. This incision allows the nasal skin to be folded back, allowing Dr Frati to view the natural setting of your nose's framework. This view will allow Dr Frati to better understand your nose and make minor adjustments that will yield dramatic results.
Closed Rhinoplasty
In an endonasal rhinoplasty, or closed nose job, Dr Frati makes all his incisions within the nostrils. The technique avoids visible scarring on the nose's exterior. Dr Frati must work slowly and carefully because the procedure is done through such narrow openings.
Benefits
Your nose job will restore facial harmony and balance. Even a subtle correction of a bump along your nose's bridge can have a huge impact on the symmetry of your face. The surgery also has the added benefit of improving your nose's function. If you have a deviated septum or other nasal issues, a rhinoplasty will help you breathe with ease.
Candidates
If you are unhappy with the appearance of your nose and have been thinking about a nose job for a while, it is time to take the next step. Ideal candidates are healthy men and women who may have difficulty with clear and unimpeded breathing.
We want you to look your best and feel your best too! Dr Frati's scores of satisfied patients all agree. If you are interested in improving your life with a rhinoplasty, schedule your private consultation with Dr Frati today.
Personal Consultation
A private consultation with Dr Frati is a great opportunity to learn more about rhinoplasty and how it can improve the many different aspects of your life. This meeting should prove informative, as Dr Frati will make sure to answer your questions and address any concerns you might have.
A rhinoplasty is a very subjective operation, so Dr Frati will discuss all outcomes using special 3D imaging software that will show you how your various surgical options may appear.
Preparation
Dr Frati will provide you with instructions on how to prepare for your surgery. Please arrange ahead of time to fill prescriptions and schedule rides because this will ease you into a worry-free recovery. We want you to have a safe and healthy surgery. If you have any questions about your preparation and surgery, please call our office so the qualified staff at Dr Frati's centre can assist you.
Give us a ring! Call 0203 633 2619 in London, or 0161 327 2139 in Manchester.
Procedure
Your nose job will be performed under general anaesthesia. The procedure takes two to three hours. Dr Frati makes small incisions discreetly within the contours of the nose. Through these incisions, the underlying networks of the nose will be accessed. The doctor will make improvements with the golden goal of symmetry in mind.
The details of your rhinoplasty will be determined by Dr Frati during your personal consultation.
Once the procedure is complete, Dr Frati closes his incisions and applies bandages. A nose splint may be needed for a few days to ensure the results set beautifully.[3]
Recovery
Each patient is given an aftercare package with individualized instructions. These instructions will include sleeping suggestions and many other details that will help you achieve the best outcome. 
Dr Frati recommends patients take about two to three weeks off from work to recover.
Bruising and swelling will take a little while to go down and may impact your vision. Any discomfort from these symptoms can be controlled with prescribed medications.
A follow-up appointment with Dr Frati will allow him to examine your nose and make sure you are healing well. These appointments are a crucial step in the recovery process to ensure ideal results.
Results
Once your bandages are removed, you will notice the impressive results achieved during surgery. Your final results will emerge after a few weeks when swelling and bruising have dissipated.
A nose job is a highly personalized procedure that will boost your confidence. You'll look amazing! Contact our offices in London or Manchester to schedule your personal consultation.
FAQ
How long is recovery from rhinoplasty?
Most patients are able to return to work after one to three weeks. The exact timeline of your recovery will be discussed in your consultation and in follow-up appointments after surgery.
Is rhinoplasty painful?
You will remain comfortable during surgery because a rhinoplasty is performed under anaesthesia. After treatment, any discomfort will be controlled with prescribed medications. These pills will help you relax and rest well during your recovery.
How dangerous is a nose job?
A nose job is like any other surgery and carries a certain amount of risk. That is why you want your surgery performed by a highly trained, experienced surgeon like Dr Frati. In the hands of a talented surgeon, you can trust that you will have a safe surgery with positive results.
How much does it cost for a good nose job?
Because there are so many elements at play in a good nose job, prices may vary from patient to patient. Schedule a consultation with Dr Frati to learn about the procedure's costs. Your private and personal meeting will allow him to assess your nose. When it is prudent, Dr Frati will prepare a personal treatment plan and cost analysis.
How much does rhinoplasty cost in the UK?
The cost of your nose job in the UK will be detailed in your customized treatment plan. First, Dr Frati must take the time to get to know you and your aesthetic goals. Based on your health and desired aesthetic, he will create a plan that helps your face appear symmetrical and attractive. The cost of your rhinoplasty surgery is discussed during your consultation. Give our office a call today or schedule a meeting with Dr Frati to get started on your aesthetic journey!
References
Arima, L. M., Velasco, L. C., & Tiago, R. S. (2011). Crooked nose: Outcome evaluations in rhinoplasty. Brazilian Journal of Otorhinolaryngology, 77(4), 510-515. doi:10.1590/s1808-86942011000400016
Sajjadian, A., Rubinstein, R., & Naghshineh, N. (2010). Current Status of Grafts and Implants in Rhinoplasty: Part I. Autologous Grafts. Plastic and Reconstructive Surgery, 125(2). doi:10.1097/prs.0b013e3181c82f12
Gruber, R. P., Chang, E., & Buchanan, E. (2010). Suture Techniques in Rhinoplasty. Clinics in Plastic Surgery, 37(2), 231–243. doi: 10.1016/j.cps.2009.12.010