Tipplasty/ Nasal Tip Sculpting
Conveniently located to serve the areas of London, Manchester, Highgate and Birmingham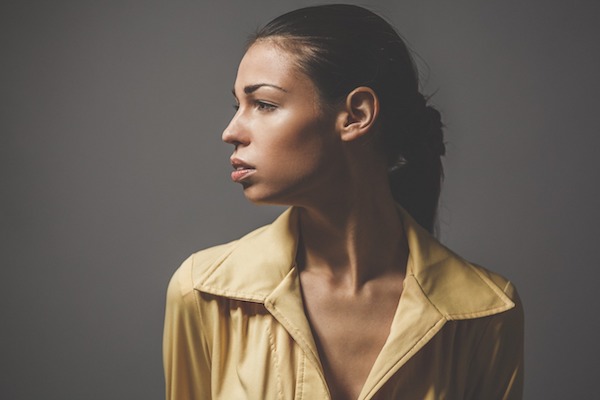 Tip plasty, or nasal tip sculpting is a precise surgery that refines and reshapes the end of the nose. The appearance of the nose between the nostrils is important, as it serves as the focal point of the face. And, if the tip of the nose doesn't match the proportions of the other facial features, this often results in feelings of embarrassment and self-consciousness.
As a leading Harley Street practitioner, Dr Riccardo Frati performs nasal tip plasty procedures to help his patients look and feel beautiful. Dr Frati offers his services to the residents of London, the Midlands, and the Northwest of England, with additional offices at Highgate Hospital and in Manchester and Birmingham. To book an individual consultation at Harley Surgery, please get in touch with us.
Harley Street: 020 3633 2619
Highgate Hospital: 020 3633 2619
Birmingham: 020 3633 2619
Manchester: 016 1327 2139
Reshaping the Nose
The British Association of Aesthetic Plastic Surgeons conducted a 2021 audit showing rhinoplasty is the fifth most popular cosmetic surgery in the U.K.(1) Nasal tip sculpting is a popular request from patients receiving a standard rhinoplasty. However, some patients' main goal is to change the shape of the tip of the nose alone. The surgery required a high level of skill and a thorough understanding of nasal anatomy. There are three basic regions of the nose:
Bony Vault: The bony vault is the hard, upper third of the nose. The paired nasal bones project outward and form a crest at the midline. This is the narrowest part of the nose.
Cartilaginous Vault: The middle third of the nose is called the cartilaginous vault. This part is flexible and composed of the paired lateral cartilage and the narrow septal cartilage that runs down the angle of the nose.
Alar Cartilage: The alar cartilage comprises the lower third of the nose. These form the widest part of the feature and the openings of the nostrils. The major and minor alar cartilage create the shape of the upper nostril and tip of the nose, while the outer curvature of the nostrils is formed with fibrofatty tissue.
The nose is supported by several structures which contribute to its integrity and projection. The shape and size of the alar cartilage can affect the stability of the rest of the nose, as can the location or deviation of the medial crura – the areas of cartilage that divide the nostrils.(2) Surgeons must pay critical attention to these delicate structures and alter them in a way that ensures the best aesthetic results.
Benefits of Tip Plasty
A tipplasty can sculpt your nose to your desired aesthetic. Men and women who are dissatisfied with the shape of their nose can benefit from surgery that creates a look that better fits their ideal. Creating a nasal profile that better matches the size and shape of the face, and that enhances your natural profile, is a way to boost confidence and improve self-esteem. However, nasal tip sculpting can also be incredibly effective for medical reasons.
Dr Frati can perform a tipplasty in conjunction with a septoplasty if a deviated septum or nostril asymmetry are causing functional breathing difficulties. Carefully sculpting the tip of the nose to meet a patient's goals is also a personalised experience. Dr Frati will thoroughly prepare you for your tip plasty at your preoperative consultation where he'll show you what can be achieved in a single procedure.
Candidates for Nasal Tip Sculpting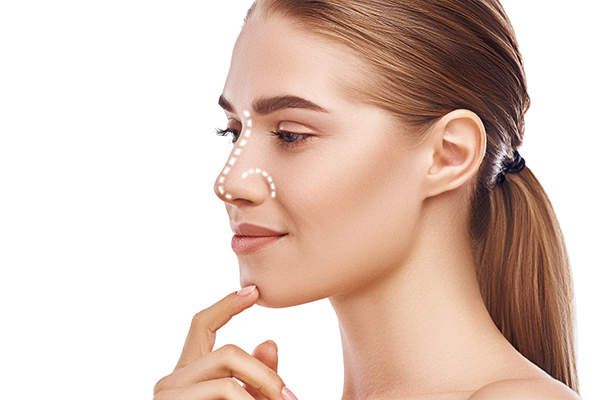 Candidates for nasal tip plasty treatment are men and women who are looking to change the shape of their nose for cosmetic reasons, medical reasons, or a combination of the two. As with any cosmetic surgery, patients should be in good general health and have a positive attitude. Dr Frati ensures all of his patients are well-informed, and understanding of the benefits and limitations of tip plasty according to the person's individual circumstances. Factors that can affect a patient's eligibility for a tipplasty include the following conditions:
Obstructive sleep apnea
Blood or bleeding disorders
Heart and pulmonary disease
Body dysmorphia
Intranasal drug use
Pregnancy
Personal Consultation
Dr Frati conducts personal consultations at his London, Manchester, and Birmingham locations. He meets with every patient to discuss their aesthetic aspirations and finds out the exact look they are seeking for their nose.
Your consultation is a chance for you to ask questions about the surgery, what you need to do before your surgery, and how to prepare for your recovery. We'll ask you to give us some basic health information and tell us what you'd like to change about your nasal features. He will conduct a nasal tip analysis and take photographs of your nose from various angles. Dr Frati will explain aspects of facial anatomy, describe the surgical techniques required for your needs, and outline the risks and benefits of a nasal tip sculpting procedure. In some cases, Dr Frati may recommend combining aspects of a standard rhinoplasty and tip plasty to get the best aesthetic results.
If you're a suitable candidate for tip plasty surgery, Dr Frati will arrange a date and time for your procedure.
Preparation
To prepare for a tip plasty procedure, Dr Frati advises patients to do the following things:
Organise time off work with your employer. Most patients require at least 10 days off after a standard rhinoplasty, but less time may be required for nasal tip sculpting, depending on the surgical methods used.
You will not be able to drive yourself home after your tip plasty, so please ensure you have arranged transportation to and from our facility.
Stop taking aspirin and NSAID pain relievers. These medications thin the blood. Some supplements such as vitamin E and St John's Wort should also be avoided.
Stop smoking and using nicotine products two weeks before your surgery. Nicotine slows down the healing process, and constricts blood vessels.
Avoid drinking alcohol around a week before your tip plasty. Alcohol thins the blood, which can affect the surgery itself, and impact the healing process.
Do not eat or drink anything the night or morning before your surgery.
Dr Frati will provide personalised instructions regarding every aspect of your preparation and ensure you are ready for your nasal tip sculpting procedure.
Tip Plasty Procedure
All patients will have an individualised treatment plan for their surgery. Dr Frati will use a closed or open technique to access the underlying alar cartilage.
Closed Tip Plasty
A closed tip plasty procedure, also known as a non-delivery approach, is an external access method to sculpt the tip of the nose. This method is suitable for patients who do not have bulbous noses and who do not have asymmetry. Dr Frati will adjust the cartilage and its relationship with surrounding tissues as specified on your treatment plan. The closed tip plasty method is less invasive, which may speed up the recovery period.(2) 
Open Tip Plasty
The endonasal, or open tip sculpting procedure exposes more of the alar cartilage. There are more incisions, but these allow easier access and visualisation of nasal structures. This method usually means the procedure itself is longer, and the recovery period may also be longer. The open technique is well suited to the augmentation of bulbous or asymmetrical nasal tips.
Whichever surgical option Dr Frati performs, he will carefully suture the area once your tip sculpting procedure is complete.
Recovery & Results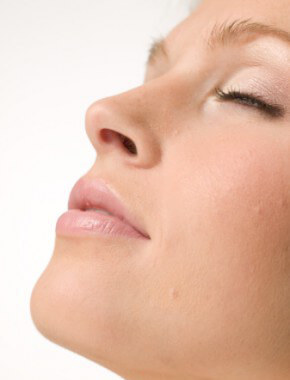 Every patient responds to surgery differently, and you'll need to wait a few weeks before you can see your finished results. However, the initial recovery period after a tip plasty procedure is usually between 10 days to two weeks. During your recovery, keep your bandages on until otherwise directed by Dr Frati. In the first few days to weeks, you will notice the area may be swollen and sore. We will give you advice on how to mitigate discomfort, and prescribe pain medication where required. Dr Frati will schedule a follow-up appointment at the appropriate time to see how your healing is progressing.
Cost of Tipplasty Nasal Tip Sculpting in London
Your tip plasty cost will vary according to the nature of the procedure. You can discuss the pricing of your treatment, and ask any questions about your surgery at your personal consultation. Getting cosmetic surgery can be a daunting process, but Dr Frati and his team are here to provide their expert guidance and medical skills. To contact either of our London facilities, or our Birmingham location please call 020 3633 2619. For patients in the Manchester area, please get in touch at 016 1327 2139. If you'd prefer to speak to a member of our staff online, please use our form to submit your inquiry.
Read Dr Frati's blog for more information about cosmetic surgery, in London, Manchester, and Birmingham!
FAQ
Is a tip plasty the same as a rhinoplasty?
A tip plasty is a cosmetic alteration of the size and/or shape of the tip of the nose. This means the focus is on changing the alar cartilage that forms it. Standard rhinoplasty procedures may include tip surgery, however, many do not. Many patients are satisfied with the angle of their nose, but are not happy with the appearance of the end of their nose. In these cases, the surgeon may recommend nasal tip sculpting rather than a rhinoplasty.
Is a tip plasty procedure shorter than a rhinoplasty?
Depending on the treatment plan, a tip plasty can be shorter than a standard rhinoplasty. Open tip plasty procedures are usually longer than closed technique tip plasty, as this involves revealing more of the underlying structures, and therefore more sutures.
Can I get a revision tip plasty?
If you are dissatisfied with a nasal tip plasty, you may wish to address any irregularities with a secondary surgery. In most cases, surgeons require you to provide details about your prior surgery, and what aspect of your prior surgery results are unsatisfactory. From there, your surgeon will give details on what can be achieved with a second nasal surgery.
References
BAAPS Annual Audit Results  | The British Association of Aesthetic Plastic Surgeons. (2019). Baaps.org.uk. https://baaps.org.uk/baaps_annual_audit_results_.aspx 
Dibelius, G., & Hohman, M. H. (2022). Rhinoplasty Tip-shaping Surgery. PubMed; StatPearls Publishing. https://www.ncbi.nlm.nih.gov/books/NBK567750/