Chin Implants (Genioplasty)
Conveniently located to serve the areas of London, Manchester, Highgate and Birmingham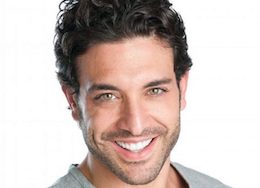 A strong chin is associated with pride. You might correctly assume from its name alone that a "weak chin" connotes less admirable traits. Aesthetically speaking, a weak, receding chin that slopes toward the neck can be responsible for asymmetrical imbalances across your entire face.
A strong, assertive mandible, on the other hand, is less likely to develop a double chin and the "turkey neck" of loose skin that hangs from the jawline. Dr Riccardo Frati wants to help improve your profile. Facial enhancement with chin implants is a way to sculpt your visage in accord with the pride and power within you.
Dr Frati is the plastic surgeon of choice for celebrities and Instagram influencers across the UK and around the world. His practice, Harley Surgery, has offices in London and Manchester. He is a renowned and respected constituent of the plastic surgery community, maintaining memberships in cosmetic organizations such as Highgate Hospital, Welbeck Hospital, and Harley Medical Group.
So use your head. Don't lead with your chin. Contact Harley Surgery to learn more about the doctor and his practice. Call 0203 633 2619 (in London) or 0161 327 2139 (in Manchester).
About Chin Implants
Chin implant surgery is also known as chin enhancement or, more technically, as genioplasty. These terms describe a surgical procedure in which a prosthetic device is moulded to your jawbone to lend it size and an impressive appearance. A jawline that is relatively small in proportion to the rest of the face is typically described as a "weak chin." In medicine, we refer to this condition as microgenia.
A weak chin is undesirable in both men and women. For men, a weak chin is the antithesis of the square-jawed superhero or athlete that is an archetype of leadership and virility. A weak chin in women can detract from the beauty of her face by making her nose appear larger while flattening the delicate contours of her profile.
Symmetry is essential for beauty in both genders. A receding chin can severely imbalance the vertical equilibrium of your face. The asymmetry is clear in portraits but it is especially obvious from the side. Additionally, excess skin and pockets of fat are more likely to bunch around weak chins. People with microgenia are especially vulnerable to the dreaded "turkey neck" that can appear as we gain weight or advance in years.
Issues Associated with Weak Chin (Microgenia)
In men, makes the chin appear underdeveloped and juvenile
In women, detracts from beauty and symmetry in the face
People of every gender are more vulnerable to unflattering jowls and turkey neck
Benefits
Chin enhancement is a highly customizable procedure. It allows you the opportunity to literally reshape your face in subtle yet profound ways. Chin implants can change the way the world sees you and the way you see yourself. A variety of implants are available in a range of sizes.
Chin prosthetics are designed to blend into the natural details of your countenance, accentuating the desired anatomical aspects whilst de-emphasizing the rest. Up to 50% of the implant can be shaped at the time of surgery, in fact. This is important in creating the heart-shaped, feminine jawline so important to some patients.
Dr Frati will trim and mould your chin implant to fit your unique features as part of your bespoke services at Harley Surgery. And, unlike breast implants, which have a lifespan, the lifetime value of your chin implant is not so limited. If the device is set correctly and you are pleased by the results, it can last as long as you do.[1] 
Benefits of Chin Implants
A small enhancement can create dramatic improvements
Completely customizable devices
Long-lasting facial enhancement
A Personal Consultation with Dr Frati
A new chapter begins with your personal consultation. Contact Harley Surgery at 0203 633 2619 (in London) or 0161 327 2139 (in Manchester).
A chance to meet and speak with Dr Frati is a chance to catch your first glimpse of the future you. The two of you will have much to discuss. The doctor must review your medical history and conduct a physical examination. He will have some questions, as well, starting with your present health and then moving on to your aesthetic goals.
Dr Frati believes that a cosmetic procedure is but a means to an end; surgery is craft, but beauty is art. So, this is your opportunity to work with the doctor and conceptualize what you would most like to accomplish at Harley Surgery. The doctor may recommend chin implants or some complementary procedures (detailed below) as the means to aid in achieving your aesthetic ends.
Chin Implant Procedure in London
Chin enhancement is typically an outpatient procedure performed under local anaesthesia, although Dr Frati may opt otherwise given your unique circumstances. He will make his incision either under the chin or inside of your mouth. Whatever the case, the doctor will take great care to minimize scarring. Since the device is pliant and malleable, only a small incision is needed to insert the implant.[2]     
With the incision made, Dr Frati creates a pocket in front of your jaw. This is the home for your new chin implant. Prior to insertion, he trims and shapes the implant perfectly to fit your alluring new looks. Then, he fixes it in place at your jawbone with titanium screws. Sutures to close the cut and bandages to protect it, Dr Frati concludes the operation and readies you for recovery.[3] 
The procedure takes between one and three hours.
Complementary Procedures
It is not uncommon to pair genioplasty with other facial enhancement surgeries. Dr Frati views his work as part of a holistic aesthetic process to release the beauty within you. Below we discuss complementary procedures that mate well with chin implants.
Rhinoplasty (Nose Job)
Much of the art in chin enhancement comes in bringing the elements of the face into balance with each other. A weak chin can exaggerate the size and shape of one's nose. As part of your comprehensive facial enhancement package, Dr Frati may recommend rhinoplasty as a means to encourage greater harmony and symmetry to across your entire visage.
Neck Liposuction
To further strengthen your profile, Dr Frati may recommend some light liposuction around the neck. This is especially relevant in cases where chin augmentation has been deployed to treat persistent issues of an intractable double chin. Fat pockets around the neck and jawline can be particularly resistant to the benefits of good diet and exercise.
Face and Neck Lift
Loose skin around the face and neck are a pair of primary culprits responsible for unflattering jowls and a double chin. This is an issue that increases with age. As our skin becomes less supple and "springy," it can begin to sag in certain areas. By excising excess, lax flesh, Dr Frati can accentuate your proud new jawline.
Face the New You at Harley Surgery
Look your best from every angle. Dr Frati's plastic surgery practices have gotten celebrities and supermodels camera-ready for years. If microgenia has you down, keep your chin up! Call us: 0203 633 2619 (in London) or 0161 327 2139 (in Manchester).
FAQ
What is a weak chin?
"Weak chin" describes a situation in which the chin is either underdeveloped at birth, or has been pushed back by chin recession. A weak chin presents a jawline that is less pronounced, leaning in toward the body. The condition can make the face appear disproportionate compared to other parts of the face, like the nose and eyes. A weak chin may distort facial expressions, as well. 
Do chin implants help a double chin?
Yes. The structure of your face contributes significantly to one's likelihood of developing a double chin. Double chins are not solely caused by excess fat. A weak chin is vulnerable to being overtaken by fat pockets that will dominate your profile with jowls and a double chin. 
How long do chin implants last?
The results of chin augmentation are long-lasting. If the implant is set correctly, complications are very rare. 
Are chin implants safe?
When executed by a skilled, experienced surgeon, chin enhancement is quite safe. The unlikely litany of risks includes infection, internal bleeding, and complications brought on by the implant shifting. Before committing to a cosmetic procedure, make sure you do your homework. Your doctor should be a trained, certified, and respected member of the plastic surgery community.   
Do chin implants feel natural?
Chin implants are designed to look and feel natural. The skill of your plastic surgeon plays a large role because it must be placed correctly. If the implant is not contoured to match the shape of your face, it can shift. After you have recovered from surgery, a well-placed chin implant should feel as natural as any other part of your face. 
References
Lee, E. (2013). Aesthetic Alteration of the Chin. Seminars in Plastic Surgery, 27(03), 155–160. doi: 10.1055/s-0033-1357113
Aynehchi, B. B., Burstein, D. H., Parhiscar, A., & Erlich, M. A. (2012). Vertical Incision Intraoral Silicone Chin Augmentation. Otolaryngology–Head and Neck Surgery, 146(4), 553–559. doi: 10.1177/0194599811434889
Hazani, R., Rao, A., Ford, R., Yaremchuk, M. J., & Wilhelmi, B. J. (2013). The Safe Zone for Placement of Chin Implants. Plastic and Reconstructive Surgery, 131(4), 869–872. doi: 10.1097/prs.0b013e3182818e6c