Fleur de Lis Tummy Tuck
Conveniently located to serve the areas of London, Manchester, Highgate and Birmingham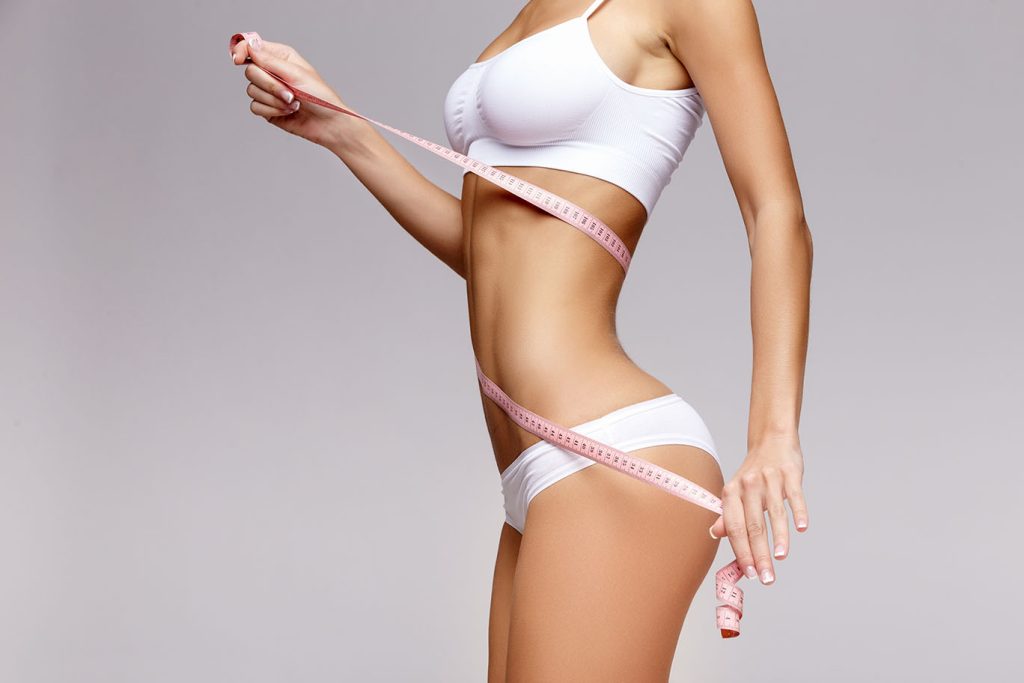 A fleur de lis tummy tuck is an abdominoplasty technique that offers comprehensive improvements to the abdomen. Unlike a traditional tummy tuck, a fleur de lis tummy tuck uses additional incisions to remove a substantial amount of excess skin. [1] It is a treatment perfect for patients finding themselves at a crossroads after losing significant weight. They may feel a sense of accomplishment for faithfully following a healthy lifestyle and losing weight but are frustrated that excess skin remains. To remedy this problem, surgeons perform a fleur de lis tummy tuck. The surgery makes two incisions (one horizontal, another vertical) in the abdomen. [2] This allows access to underlying abdominal muscles and the removal of more significant amounts of skin. After recovering from this procedure, patients enjoy a slimmer, tighter silhouette for their midsection.
Dr Riccardo Frati of Harley Surgery is an experienced surgeon ready to create profound results for patients in the London, Chelmsford, and Manchester areas. Contact us online or by phone at +44 20 3633 2619 to schedule a consultation.
About Fleur de Lis Tummy Tuck
Fleur de lis means "lily flower" in French, and the procedure gets its name because the inverted T incision resembles a lily. The procedure improves traditional tummy tuck techniques by making two incisions to remove a larger amount of redundant skin in the middle of the abdomen. [1] A horizontal line runs hip to hip, just above the pubic line. The other extends vertically and intersects with the middle of the first incision, running toward the centre of the chest. [2] This approach substantially improves the waistline, flanks, and abdomen.
Comparing a Fleur de Lis Tuck with a Regular Tummy Tuck
Both procedures provide positive results but utilize different techniques. Below are some of the ways they differ.
Fleur de Lis: This technique is performed on patients requiring the removal of substantial amounts of lax, excess skins. Two incisions are made in the abdomen to allow the skin to be removed, and the abdomen can be tightened horizontally and vertically. A fleur de lis takes longer to perform but dramatically defines the abdomen, flanks, and overall waistline.
Traditional Tummy Tuck: This common approach to moderate cases of excess skin and displaced muscles makes only one horizontal incision that extends from hip to hip. Excess skin from above the incision is removed, and the remaining skin is pulled taut. Incisions made can be easily hidden underneath clothing and undergarments.
Benefits
Patients who recently experienced dramatic weight loss or have multiple pregnancies will find rewarding results with a fleur de lis tummy tuck procedure. When your full results come to light, you will experience:
A reduction of excess skin and fat that results in a flatter abdomen and tighter skin
A correction of both vertical and horizontal abdominal planes
A slimmer waistline and better hip-to-waist ratio
Similar recovery time to a regular tummy tuck procedure
A massive uptick in confidence and wardrobe options
Candidates for Fleur de Lis Tummy Tuck
Patients wanting to reveal abdominal contours without lax, excess skin in the abdomen and torso area may be eligible for the procedure. Fleur de lis tummy tucks are frequently performed on patients who have undergone massive weight loss and are at a stable weight. Those interested should consider the following criteria before coming in for surgery. They include:
Having a considerable amount of excess skin in the abdominal area
Willing to undergo a more involved surgery and scarring
Able to quit smoking in the weeks leading up to their procedure and for the duration of their recovery
Understanding this treatment is not a weight loss program
Being able to live a healthy, active life once healing is complete
Women who are not planning future pregnancies
Schedule a consultation with Dr Frati at our beautiful offices in London, Chelmsford or Manchester to see if you will benefit from a fleur de lis tuck or other body contouring treatment. Get in touch with us online or at +44 20 3633 2619. To learn more about the different services offered at Harley Surgery, follow our blog!
Personal Consultation with Dr Frati
Dr Riccardo Frati is a gifted and compassionate surgeon serving the residents of London, Chelmsford, and Manchester with various cosmetic and reconstructive options inside an ultra-modern facility. He created Harley Surgery to exercise outstanding patient safety, care, and confidentiality. These essential pillars have helped many clients push through the barriers keeping them from an ideal physique and achieving an improved aesthetic.
A consultation with Dr Frati will allow you to discuss your needs in a frank yet friendly manner. First, he will verify your candidacy by asking questions regarding your health, past surgeries, and ideal aesthetic. Then, he will examine the skin in your abdomen, and once complete, he will propose an appropriate treatment plan. If this treatment is deemed suitable for you, he will outline the surgical procedure in better detail. Before you go, we'll provide you with a list of pre-surgery instructions and schedule your surgery date.
Come in for an initial consultation with Dr Frati at one of our state-of-the-art offices. Call us at +44 20 3633 2619.
Preparing for Surgery
Designate a comfortable area to recover at home and ensure supplies are within easy reach. Preparing yourself for a fleur de lis tummy tuck takes a few weeks. Completing these steps will make sure your recovery stage is much easier.
Handle arrangements to take time off from work and have someone drive you home.
Temporarily stop smoking to facilitate the proper blood flow needed for healing.
Pick up prescribed pain medication and antibiotics from the pharmacy.
Discontinue medications such as blood thinners and anti-inflammatories
Designate a comfortable area to recover at home and ensure supplies are within easy reach.
The Fleur de Lis Procedure
Patients will be administered general anaesthesia for maximum comfort. Once it has taken effect, Dr Frati will make two incisions in the abdomen that extend into the deep tissue. [2] The first incision is made horizontally, running hip to hip, just above the pubic line. The other is made vertically in the middle of your stomach and extends just underneath the first incision and upwards in the middle of the abdomen. [2] The skin is lifted from around these incisions. He will then remove a crescent shape tissue from each side of the vertical incision. The vertical flaps are then pulled inwards and sutured closed to narrow the waistline and eliminate the excess skin from the sides of the torso. Excess skin is removed from above the horizontal incision, and the remaining incision is sutured closed, creating a smoothed and lifted appearance to the lower abdomen. Dr Frati will then place surgical drains to aid your recovery and wrap the area in a compression garment.
Recovering from Surgery
Following surgery, symptoms of bruising, lethargy, discolouration, swelling, and discomfort are usual. Taking the medication as directed by Dr Frati and following the post-op instructions will ensure that excessive discomfort is avoided and healing progresses nicely. The surgical drains and sutures will be removed during your follow-up appointments, and Dr Frati will monitor your progress. Most symptoms will be greatly improved in the coming weeks, and you will be able to return to work in 2-3 weeks after your surgery. Continue to wear the compression garment. More involved activities such as exercise are discouraged until six weeks after your procedure.
Results
Immediately after surgery, you may notice more slender contours, but your results will be hidden by swelling and the compression garment. Once your symptoms have fully subsided in four months, you'll see a taut, leaner midsection. In addition, you'll enjoy a flatter stomach and abdomen, visible abdominal definition, and an overall enhanced appearance. Doing your part in keeping a healthy lifestyle will secure your results for years to come.
Corresponding & Complementary Procedures
Harley Surgery offers various surgical and nonsurgical cosmetic options to enhance your aesthetics and confidence. When we meet for your consultation, Dr Frati may recommend a combination of procedures for optimal results.
Liposuction
Patients wishing to slim down the abdomen, hips, thighs, buttocks, and arms can receive a liposuction treatment to highlight these features. Dr Frati will make a small incision in the targeted areas so a cannula can remove fat-lagged deposits between the muscle and skin.
What is the Cost of a Fleur de Lis Tummy Tuck in London?
Final costs for your treatment will depend on your specific case. We'll discuss these details more at your consultation. You can also call us to understand the cost involved better.
FAQ
Is a fleur de lis tummy tuck right for me?
The surgery helps countless men and women of all weight sizes achieve a slimmer, taut body profile. However, this transformational procedure will benefit patients with considerable excess skin or fat in the abdominal area. The only way to find out if this treatment suits you is to schedule a consultation with Dr Frati.
Is a fleur de lis tummy tuck different from a traditional tummy tuck?
Yes, there is a difference between the two. A traditional tuck removes moderate cases of excess skin and uses only one horizontal incision running hip to hip. By comparison, a fleur di lis tuck removes extensive skin from the area using two incisions in the abdomen for better results.
References
Dinsmore, R. C., Pham, P. M., Lopez, J., & Palubicki, J. H. (2014). Safely Performing the Inferior-Medial Vector Fleur-de-Lis Abdominoplasty. Plastic and Reconstructive Surgery, 134(4S-1), 113. https://doi.org/10.1097/01.prs.0000455474.62431.e5
Bunting, H., Lu, K. B., Shang, Z., & Kenkel, J. (2020). Vertical Abdominoplasty Technique and the Impact of Preoperative Comorbidities on Outcomes. Aesthetic Surgery Journal Open Forum, 3(1). https://doi.org/10.1093/asjof/ojaa043