Cleavage Enhancement
Conveniently located to serve the areas of London, Manchester, Highgate and Birmingham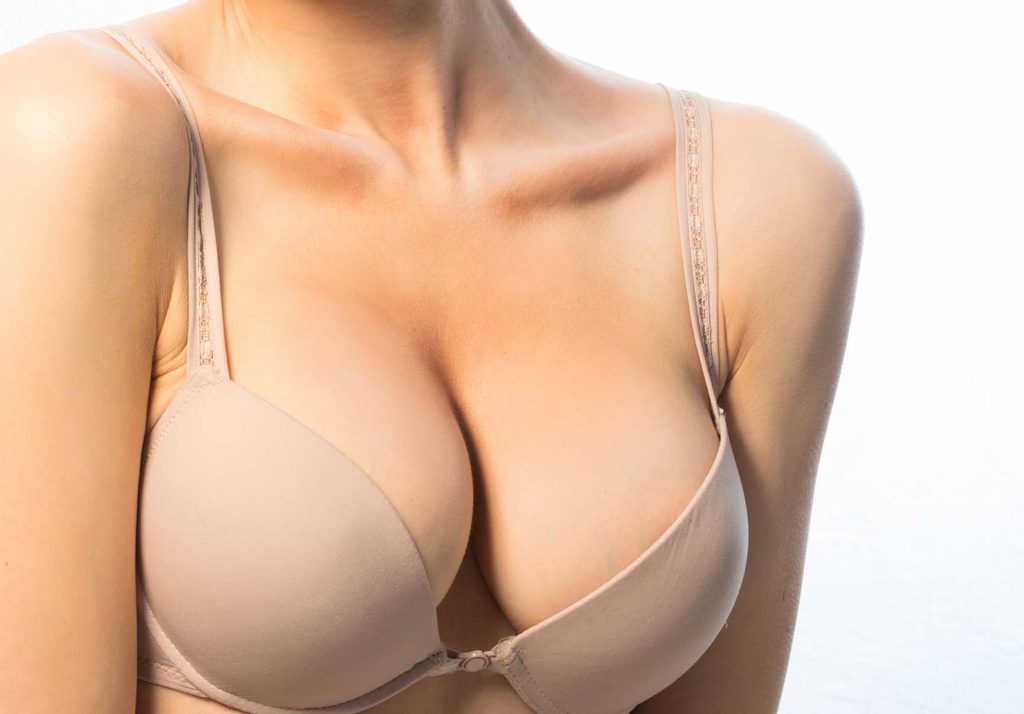 Cleavage enhancement is an aspect of cosmetic breast surgery that can give you the voluptuous, Instagram-worthy cleavage you want! Cleavage enhancement with breast augmentation surgery is a complex procedure that only highly-skilled surgeons like Dr Riccardo Frati of Harley Surgery can perform. Dr Frati uses a series of brilliant methods he developed that work together to beautify the space between your breasts and your profile. So, if you feel self-conscious about your breasts or want to achieve a more aesthetically pleasing look, keep reading to learn everything you need about cleavage enhancement surgery!
Breast implant surgery is the most common plastic surgery performed among women worldwide, [1] and one of the most common cosmetic surgeries in the UK. Dr Frati has four locations where his patients can receive their cleavage enhancement. So don't delay! Schedule a consultation with Dr Frati to get plumped, lifted breasts with gorgeous cleavage today. In London, Birmingham & Highgate call +44 20 3633 2619, or in Manchester call +44 16 1327 2139. We look forward to creating your dream cleavage!
Learn more about the cutting-edge techniques that set Dr Frati apart on his blog.
Cleavage Goals
As a woman, you want to feel confident and beautiful in your skin. You want to feel comfortable in your clothes, and you want to know that you look good. When it comes to your breasts, this can be a difficult task. Many women are self-conscious about their breasts and may feel they need to hide them; this is where cleavage enhancement comes in.
Perhaps you feel you don't have enough cleavage, or maybe your breasts are asymmetrical. Perhaps you have lost volume in your breasts due to weight loss or pregnancy. Whatever the reason, cleavage enhancement can set you right. The advanced techniques Dr Frati uses in this surgery can give you the look you dream of.
Dr Frati can change the shape, increase or decrease the size, and even lift your breasts if necessary. He will work with you to find the right solution for your individual needs.
What are the Benefits of Cleavage Enhancement?
Many benefits come with cleavage enhancement. First and foremost, you will feel more confident, ready to take on the world chest first. You will have the confidence to wear more revealing clothing without second-guessing your decision. Breast augmentation surgery can help to improve the appearance of your breasts, but cleavage enhancement takes it one step further: from "Wow!" to "You just stopped traffic!"
Your breasts will look fuller with youthful volume, voluptuous lift, and gorgeous cleavage. Your self-esteem will skyrocket!
But if you are considering cleavage enhancement, you must consult with a board-certified plastic surgeon first. Dr Frati is a highly skilled and experienced plastic surgeon who has helped many women in London and abroad achieve A-list aesthetic status. He will work with you to create a treatment plan tailored to your individual needs.
Candidates for Cleavage Enhancement
The best candidates for cleavage enhancement are women who are unhappy with the appearance of their breasts of several factors, including weight loss, pregnancy, and ageing.
If you are self-conscious about your breasts or feel you need to hide them away, this surgery can help you!
Candidates should also be:
In good general health
Non-smokers
Able to take time off from work for recovery
Realistic in their expectations
It is important to note that cleavage enhancement is cosmetic surgery, which means it is generally not covered by health insurance. Therefore, if you are considering this surgery, you should factor in the cost of the procedure when making your decision.
Personal Consultation
If you are interested in learning more about cleavage enhancement, we invite you to contact our office today to schedule a consultation. Dr Frati will answer any questions and help you decide if this surgery will suit your needs. He will examine your breasts and discuss your goals for your new breasts, evaluate your medical history, and perform a physical examination to ensure you are healthy enough for surgery. He will then develop a treatment plan tailored to your case. After your consultation, we will review all the potential risks and complications with you before the surgery so that you are fully informed.
Cleavage enhancement is a popular cosmetic surgery procedure in London that can help women confidently show off their assets and Dr Frati leads the way!
Preparation
Before undergoing cleavage enhancement surgery, there are some essential things to keep in mind:
Patients should quit smoking at least two weeks before the surgery. Smoking increases the risk of complications and can slow down the healing process.
Patients should also avoid taking blood thinners, such as aspirin or ibuprofen, for at least two weeks before the surgery.
Please arrange a ride home after surgery and for help once you arrive home.
Prepare a safe, cosy space for your recovery that includes everything you need within reach, including books, magazines, pillows, comfortable clothing, and a laptop or tablet.
You must also include setting realistic expectations as part of your preparation. This surgery will not make you look like a completely different person but rather can help improve your appearance so that you feel more confident in your body. Even if you bring in a photo of the cleavage of your favourite reality star, Dr Frati must determine what can be achieved with what he has to work with. Our patients are pleased with their results; we believe you will be, too!
How is Cleavage Enhancement Performed?
Cleavage enhancement is a complex surgery that only the most skilled and experienced plastic surgeons should perform; Dr Riccardo Frati has helped many women boost their breasts and enhance their cleavage.
The surgery is typically performed under general anaesthesia, meaning you will be asleep during the surgery.
The first step is to make incisions. These incisions will be made in the crease under your breasts, around your areolas, or through your armpits. The type of incision will depend on your individual needs and goals and will be decided upon during your consultation.
Next, Dr Frati will create a pocket for the implants and place them in position. Dissection of the pocket means that the pectoral muscles are not entirely released from the chest wall, as is the case with a traditional breast augmentation procedure; this results in the incredible cleavage you've dreamed of. [2]
Dr Frati takes care in placing the implants and positioning them to look natural and feature your cleavage. During your surgery, Dr Frati will also divide the fascia or the tough layer of tissue that covers your pectoralis muscle; this allows him to better place the implants and reduce the space been your implants while avoiding the "uni-boob" look.
Dr Frati recommends silicone gel implants for his patients, as they provide a more natural look and feel than saline implants. [3]
The final step is to close the incisions with sutures.
After the surgery, you will be taken to a recovery room, where you will be closely monitored. You will then be able to go home to recover. Remember, you must have someone drive you home since you cannot drive yourself.
Recovery from Breast Augmentation in London
After your surgery, you can return home the same day. However, you must take it easy for the first few days and avoid strenuous activity or heavy lifting, which includes your children and pets.
You should become mobile as soon as possible and continue to walk around your house every few hours; this will help to reduce the risk of developing a blood clot.
You will have some pain and discomfort after the surgery, but this can be controlled with the pain medication you collect before surgery.
You will also have some bruising and swelling, but this should start to improve after a few days.
Sleep on your back with your head elevated for at least a week to help reduce swelling.
You will need to wear a special compression garment for the first few weeks to help support your breasts as they heal.
Most women take between one and two weeks off work to recover from surgery. However, this will depend on the type of job you have. You may need to take more time off if your job is physically demanding.
Dr Frati will see you for follow-up appointments to check your progress and discuss any concerns you may have. Most patients are happy with their results and feel that their surgery has improved their quality of life.
If you are considering breast augmentation with cleavage enhancement in London, you should book a consultation with Dr Frati.
What are the Results of Cleavage Enhancement in Birmingham?
The results from your surgery will depend on several factors, including the size and type of implants used and your individual anatomy. However, most patients are thrilled with their results.
Your new breasts will look and feel natural, and you will enjoy all the benefits of having larger breasts and beautiful cleavage. Get out the camera because these breasts are selfie-worthy!
What is the Cost of Cleavage Enhancement in London?
The surgery cost will depend on many factors, including the type of implants used and the length of your surgery. You can book a consultation with Dr Frati to get an accurate quote for your surgery. He will be able to discuss the cost of your surgery and help you budget for your procedure.
Get pin-up perfect boobs with London's premier plastic surgeon. Call or send us a note today to get started! In London, Birmingham & Highgate call +44 20 3633 2619, or in Manchester call +44 16 1327 2139. We look forward to working with you!
References
Pelc, Z., Skórzewska, M., Kurylcio, A., Olko, P., Dryka, J., Machowiec, P., Maksymowicz, M., Rawicz-Pruszyński, K., & Polkowski, W. (2021). Current Challenges in Breast Implantation. Medicina (Kaunas, Lithuania), 57(11), 1214. https://doi.org/10.3390/medicina57111214
Hidalgo DA, Spector JA. Breast augmentation. Plastic and reconstructive surgery. 2014;133(4):567e83e. doi:10.1097/PRS.0000000000000033
Calobrace MB, Capizzi PJ. The Biology and Evolution of Cohesive Gel and Shaped Implants. Plastic and Reconstructive Surgery. 2014;134(1S):6S. doi:10.1097/PRS.0000000000000347