Thigh Lift (Thighplasty)
Conveniently located to serve the areas of London, Manchester, Highgate and Birmingham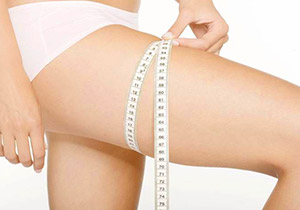 Aging, childbirth, and significant weight loss—these life-changing, body-altering events can leave you looking saggy in a number of places, especially your thighs. When you were young, life was easy and your skin was smooth and supple. But the dermal tissue loses its "springiness" with time.
If you have gone through any of the above-mentioned ordeals, you may find that your skin won't be bouncing back this time. Loose skin can not be addressed with diet and exercise. Only body contouring procedures, like the thigh lift at Harley Surgery, can excise excess tissue. Feel comfortable in your skin again!
Dr Riccardo Frati held several NHS posts before becoming one of the UK's premier plastic surgeons. With offices in London and Manchester, Dr Frati's Harley Surgery serves an international clientele with selfie-ready, Instagram-able results! Now you too can have the look and live the life you deserve. Call us for a consultation: 0203 633 2619 (in London) or 0161 327 2139 (in Manchester).         
About the Thigh Lift
A thigh lift is the only way to be rid of extra skin and achieve long-lasting results. Dr Frati wants to help you complete your metamorphosis. Because, like the caterpillar in her cocoon, your loose skin must be sluffed off before you can spread your wings and fly!
A thigh lift helps correct the most severe cases of loose, sagging skin. Most often, thigh lift patients have gone through a transformation. Sometimes that transformation is motherhood. Other times, excess flesh is what's left after losing many kilos of body fat as the kind that is seen after bariatric surgery. It is the cruellest of all ironies that these transformations leave embarrassing extra skin behind. Obeying the will of gravity, much of this loose skin tends to pool around the thighs.[1]
Loose skin draped from your thighs can be more than simply mortifying. Depending on its location and extent, there can be friction, rashes, even pain and open sores! It may be difficult to thoroughly clean between the folds of skin, as well, causing sanitary and hygiene issues. Again, the lower body, around the hips and thighs, are prime places where all these unfortunate issues become exacerbated.
Benefits
Does your skin fit you like a pair of trousers three sizes too big? The thighplasty operation takes surgical skill but its concept is simple: like a savvy tailor, Dr Frati snips, fits, and stitches your skin to your new slim frame.[2]
Thigh Lift Benefits
Attractive legs that fit your frame
Increased appearance of muscle definition
Reduced appearance of stretch marks
Bespoke clothing fits better
Reduced friction between the legs
Reduced sores and irritation from friction
Enhances hygiene
Minimizes opportunity for infection
Candidates
The ideal candidate should understand that a thigh lift is a significant phase in your transformation journey and hence, an involved surgery. You should certainly be ready for it, having achieved your goal weight and sustained it for at least six months to a year.
Women recovering from childbirth should not plan on getting pregnant again after any body contouring procedure. A thigh lift will reverse signs of ageing in your lower quarters although patients can expect that skin will continue to become laxer as you age.
The ideal candidate is a nonsmoker in good overall health. Their lifestyle ought to include a sensible diet and regular exercise. The importance of these factors can not be understated as they have significant impact on your fitness for surgery and the reliability of your results.
Ideal Candidates for Thigh Lift
Have maintained goal weight for an appreciable length of time
Mothers ought not plan on becoming pregnant again
Nonsmoker
Sustained healthy lifestyle (diet and exercise)
Dr Frati shall determine your candidacy for thighplasty during your personal consultation at Harley Surgery.
Your Personal Consultation with Dr Frati
Your private, personal consultation with Dr Frati includes an overview of your medical history and an examination of your present health. If you are unsure of how to prepare for the meeting or what to bring, it would be wise to call the office ahead of time.
Contact Dr Frati at Harley Surgery. Call 0203 633 2619 (in London) or 0161 327 2139 (in Manchester).
We encourage you to make the most of your experience with Dr Frati. This is your opportunity to tell your transformation story. Dr Frati will inquire as to your goals, hopes, and aspirations. So, as Virgil did with Dante, let the doctor be your guide on the last leg of your journey toward self-actualization.
Thigh Lift in London
Thighplasty is major surgery. Hence, Dr Frati will have you placed under general anaesthesia. Once you are fast asleep, the doctor will make his incisions. The type of thigh lift you are getting shall determine the incision pattern. We briefly discuss these incision patterns below.
Medial Thigh Lift
Dr Frati performs the "mini-thigh lift" by making an incision at your inseam and groin area. Sometimes the incision will extend around the back of the thigh. This procedure is for removing sagging skin between the legs.
Lateral Thigh Lift
In this version of the procedure, Dr Frati cuts along the outer thighs to remove the "saddlebags" that sometimes hang from the hips and sag down the legs. This surgery can be paired with complementary procedures for comprehensive results, discussed in the next section.
Spiral Thigh Lift
If it is the back of the legs and buttocks you wish to target, the incision for the spiral thigh lift is focused on the posterior side. Dr Frati's knifework begins at the gluteal fold under the buttocks.
With the incisions made, the rest of Dr Frati's work entails lifting, smoothing and removing skin until he judges that your youthful contours have been restored. He employs deep sutures to close the wound. This will encourage safe healing as your fabulous final results take shape over the next month and a half.
Complementary Procedures
Your thigh lift may only be one component of your comprehensive transformation.
Abdominoplasty
Tummy Tuck is a procedure for tightening loose skin at the abdomen. When paired with thighplasty, your whole body gets a lift!
Mommy Makeover
Mommy Makeover is a combination of procedures custom-made for mums! Mommy Makeover candidates seek to recapture their pre-pregnancy bodies with a bespoke mix of Breast Augmentation, tummy tuck, Liposuction, and more.
Complete Your Transformation at Harley Surgery
Like a wise and ancient alchemist, Dr Frati is a master of transformation. Whether it be a massive weight loss, the ageing process, or pregnancy, your essential, inner beauty glimmers like hidden gold, just out of sight. Contact Dr Riccardo Frati and complete your transformation at Harley Surgery.
FAQ
What is the recovery time for a Thighplasty?
You will need to recuperate between one and two weeks before returning to light work. Swelling and bruising may last for several weeks. The thigh lift is a significant surgery, so do not push yourself too soon. You will want to avoid putting stress on your incisions as this presents the risk of wound separation. 
What is best practice for a safe and speedy recovery from thighplasty?
We advise that you have a close friend or trusted family member stay with you for a couple of days immediately following your surgery. This "recovery buddy" will keep your spirits up while they help you with simple tasks around the house. You will have drains on your surgical area and follow up visits with the doctor to attend to. Please keep all of your appointments. After six weeks, you may return to more strenuous activity.    
Does loose skin go away?
The intractable loose skin left in the wake of significant weight loss can only be corrected by body contouring procedures like thigh lift, tummy tuck, and arm lift. 
What is a spiral thigh lift? 
This procedure aims to lift loose skin around your entire thigh. It is often paired with a lower body lift or full abdominoplasty. The incisions for a spiral thigh lift are made from behind, under the infra-gluteal crease of your buttocks and the upper posterior thigh.
What is a bilateral thigh lift?
Also known as an "outer thigh lift," this procedure focuses on correcting the "saddlebags" of loose skin on the front and outside of your legs. The doctor begins with a V-shaped incision at the top of your legs, above the bikini line. 
Where are the scars for a thigh lift?
There are several variations of thighplasty but most share common incisions near the hips or along the inseam of your upper legs. Long-lasting scars may be minimized by the careful knifework of an experienced surgeon and a faithful execution of the aftercare instructions by you, the patient.  
References
Hurwitz, D. J. (2006). Thighplasty in the Weight Loss Patient. Seminars in Plastic Surgery, 20(01), 038–048. doi: 10.1055/s-2006-932448
Moreno, C. H., Neto, H. J. G., Junior, A. H., & Malheiros, C. A. (2008). Thighplasty After Bariatric Surgery: Evaluation of Lymphatic Drainage in Lower Extremities. Obesity Surgery, 18(9), 1160–1164. doi: 10.1007/s11695-007-9400-z