VASER Liposuction Flanks
Conveniently located to serve the areas of London, Manchester, Highgate and Birmingham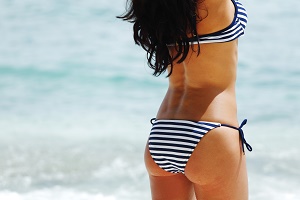 VASER liposuction of the flanks is a body contouring procedure to remove excess fat from the areas colloquially coined as the "love handles." While the name makes the areas sound endearing, the reality of love handles can be far from it. Made up of subcutaneous fatty tissue, the flanks can be stubborn, and resistant to diet and exercise alone. They can start as cumbersome spots that grow into a major insecurity. That's why Dr Riccardo Frati and his stellar team of experts at Harley Surgery are proud to offer their clientele VASER liposuction for the flanks. If you would like to see how Dr Frati can improve your physique, please schedule a personal consultation at our Harley Street office. To reach our office please call +44 20 3633 2619.
Break-Up With Your Love Handles
Love handles, or flanks, are those fatty cushions that border both sides of your abdomen. For those who laboriously exercise, rotund love handles may be your physique's incontestable kryptonite. You can do as many sit-ups, planks, or Russian twists as you'd like, but those love handles will remain impervious and unaltered. This persistence is because the body uses this fatty tissue to protect vital organs and regulate heat loss. So, when the body sheds fat, this fat is the last to go – if ever!
The VASER Advantage
Standing for vibration amplification of sound energy at resonance, VASER liposuction is an advanced liposuction technology that employs gentle, high-frequency vibrations to dislodge fat cells from surrounding tissue. VASER technology allows for the fatty tissue to be extracted more easily, and with less invasive measures.[1] Compared to traditional liposuction, VASER is less disruptive to fat's neighbouring tissue under the skin, so more fat is removed in a more precise manner.
If you would like to see how the VASER Advantage can improve your physique by ridding your body of those unwanted flanks, please schedule a consultation with Dr Frati today!
Candidates
Have diet and exercise left you with anti-climactic results? VASER liposuction could be the best solution for you if you're an otherwise healthy individual who longs to rid your body of unwanted love handles. It is important that you already lead an active lifestyle and be at a healthy, stable weight. Overweight candidates will not be approved. Liposuction and other body contouring procedures at Harley Surgery are not weight-loss procedures nor should they be substituted for a healthy, active lifestyle. VASER liposuction is an aesthetic procedure that sculpts away the curves you don't want to enhance those you do. 
Personal Consultation
Dr Frati is an internationally trained plastic surgeon with a thumb on the latest, cutting-edge technologies. Taught by the creator of the VASER technology Dr Alfred Hoyos, Dr Frati has climbed the ranks to become one of the premier VASER experts in the country. With his extensive knowledge and expertise, he will make sure you are comfortable and well informed during your consultation. Here, he will perform a physical examination, to determine whether VASER is right for you. Then, he will inquire about your longed-for, aesthetic results. Whether you'd like to treat the love handles exclusively, or combine this procedure with another body contouring treatment, Dr Frati come to understand your desires and expectations. Then, if he gives you the green light, we will schedule a time and date for your procedure. We will give you a list of preparatory steps that should be adhered to in the interim.
Preparation
While we may give you another list of personalised steps, some basic pre-surgery steps are:
Avoid smoking. If you are a smoker, we ask that you stop smoking three weeks before your surgery date and the entirety of your recovery. This is because nicotine thins the blood which hampers the blood's ability to coagulate. This weakens the body's ability to heal properly, diminishing your results.
Avoid blood-thinning medications such as NSAIDs, aspirin, or ibuprofen. Like nicotine, blood-thinners hamper the body's natural healing process and can prolong or deter proper recovery.
Schedule a ride home. You will not be allowed to drive yourself home after the operation, so you must designate a caretaker to take you home.
Plan ahead. We recommend you inform your employer that you need a couple of days off after your procedure. These days should be spent at home, focusing on proper recovery. We also advise you to pick up any prescriptions Dr Frati prescribes beforehand so you will not have to pick them up after your procedure.
Procedure
VASER liposuction is a simple, outpatient procedure performed under either local or general anaesthesia. Before Dr Frati removes the fat, he uses the high-frequency vibrations to dislodge the fatty tissue from its neighbouring tissue.[2] Then, Dr Frati craftily manoeuvres a cannula to remove the stubborn, unwanted fat from the areas. Because the fat was treated with the sound waves first, the targeted fatty tissue is easier to remove, thus allowing for greater precision by Dr Frati and less trauma for the patient.[3]
Recovery & Results
Because VASER is easier on the body, your recovery time will be less than traditional liposuction. After their VASER procedure, many of our patients can walk out of our offices. Liposuction is a permanent way to remove fat, so when you leave our care, you'll be leaving without your love handles! These fat cells will remain exiled from your flanks if you continue to lead a healthy, active lifestyle.
Corresponding & Complementary Procedures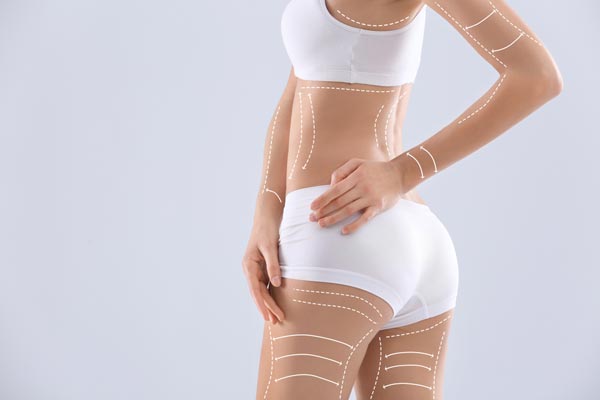 The quality results and expert care of Dr Frati and his team at Harley Surgery might interest you in our other body contouring procedures. We have many patients who receive other treatments in conjunction with their VASER liposuction for their flanks. Other procedures that complement VASER liposuction are:
Tummy Tuck
Known as an abdominoplasty, a tummy tuck is a procedure that rids the abdomen of excess, loose skin that may linger from pregnancy or weight loss. By making an incision from hip-to-hip, under the waistline of where a bikini would cover, Dr Frati gently pulls the loose skin taut. Next, he trims the excess skin and tightens the abdominal muscles with sutures. Finally, he carefully closes the incision to minimize any noticeable scarring.
Thigh Lift
As is common for people who have undergone a weight-loss transformation, excess, loose skin around the thighs can be onerous or difficult to manage. It can cause uncomfortable friction on your inner thighs when you walk or run or make wearing skirts, shorts, or dresses awkward and unpleasant. The best way to rid this skin is with Dr Frati's expert approach to the thigh lift. With a thigh lift, you can see your legs become more contoured and sculpted. By making a couple of discreet incisions around the upper portion of the leg or groin area, Dr Frati expertly trims away all excess tissue and leaves behind two finely chiselled thighs.
Cost in London
The cost of your VASER liposuction procedure will vary depending on various factors. First, we must take your surgical requirements into account. Then, we also add the cost of any complementary procedures. To learn more about pricing please feel free to schedule a consultation or call us at +44 20 3633 2619.
FAQ
How do I get rid of my flanks?
Flanks, also known as love handles, are notoriously difficult to shed through diet and exercise alone. Health and fitness gurus market certain supplements or core exercises to shed these unwanted fat deposits. But for many of our clients, these applications deliver less than desirable results. So, is there really a way to lose these superfluous pockets of fatty tissue? With VASER liposuction, a trained, expert surgeon like Dr Frati can artfully sculpt your love handles away, leaving behind a contoured, slender silhouette. 
How long does it take to see results?
After VASER liposuction, you can expect to see results right away. This is because the targeted fatty tissue is extricated directly from the body. Once contoured and sculpted, your flanks may be a little swollen and bruised. It is important to focus this time on recovery to ensure optimal results. Over the next few weeks, you will notice your results improving exponentially. Once the bruising and swelling have completely subsided, your toned abdomen is ready for its miraculous debut.
Is VASER a weight-loss operation?
VASER liposuction should not be seen as a weight-loss operation but rather as a body contouring procedure. Sure, since fat is removed from the body, weight will be lost. However, you must be at a healthy, stable weight to be approved for surgery. We ask this of our patients because if any weight is gained or lost after your VASER procedure it can hamper the quality of your results. 
References
Hoyos, A., & Millard, J. (2007). VASER-assisted high-definition liposculpture. Aesthetic Surgery Journal, 27(6), 594–604. doi: 10.1016/j.asj.2007.08.007
Hoyos, A. E., & Guarin, D. E. (2020). High-Definition Body Contouring Using VASER-Assisted Liposuction. Ultrasound-Assisted Liposuction, 203-211. doi:10.1007/978-3-030-26875-6_13
Garcia, O. (2020). Contouring of the Trunk. Ultrasound-Assisted Liposuction, 65-86. doi:10.1007/978-3-030-26875-6_6