Mummy Makeover
Conveniently located to serve the areas of London, Manchester, Highgate and Birmingham
A mummy makeover is a customised collection of procedures that revitalise a woman's physique after childbirth. Pregnancy is a precious milestone in a woman's life. Unfortunately, childbirth and breastfeeding causes significant changes to the body.
Women are often left with laxity in breast tissue, stretched skin, and other unflattering aesthetic concerns. A mummy makeover addresses these concerns by targeting multiple areas of the body in a single surgical appointment. Dr Riccardo Frati at Harley Surgery believes every mother should love the way they look. From various breast augmentation procedures, tummy tucks, or liposuction, women can take control of their bodies and defy their post-pregnancy aesthetic concerns. Interested women who want to learn about this metamorphic experience should schedule a consultation at our offices in London, Manchester, Highgate, and Birmingham. You can also ring us at +44 20 3633 2619 to reach any one of our offices.
*RESULTS MAY VARY
About a Mummy Makeover
The birth of a child is one of life's most precious moments. It is a gift that changes your perspective on life. Sadly, the physical demands of pregnancy and childbirth may cause undesirable alterations to your body. Excess skin, weight gain, and uneven contours may transform your body during and after birth. A mummy makeover is a solution to help women quickly reclaim a youthful silhouette after one or multiple pregnancies. Multiple procedures can be performed at once which vastly reduces cost, recovery, and the need for multiple surgeries.[1] These makeovers are highly customisable and can treat the breasts, abdomen, legs, and more. Dr Frati will guide you through your options to make the best decision that works best for your body. Your mummy makeover may include:
Breast Augmentation
Breast augmentation and breast uplift surgeries are two surgeries often combined in a mummy makeover. An uplift corrects skin elasticity issues and the projection of the breast profile. The uplift involves making multiple incisions around the breasts and excising unneeded skin and tissue. The breasts are then lifted and tightened to a flattering position. The nipples may be relocated, and areolas are reduced to improve their projection. [1]
Augmentation surgery provides fullness to your breast profile. Your ideal breast profile and anatomy will influence the incision technique, implants used, size, and texture. Once the appropriate incisions are made, the implant is inserted above or below the chest wall muscle in the breast pocket. Women can expect a natural, significant enhancement to their bust size once the procedure is complete.
*RESULTS MAY VARY
Tummy Tuck
Both a partial (mini) or full tummy tuck helps eliminate redundant tissue around the midsection. A partial tummy tuck is usually for patients with moderate amounts of excess skin. The process involves a small incision made above the pubic hairline. Then, excess skin is trimmed off. Conversely, fuller tummy tucks require a longer incision that runs hip to hip, allowing access to both the extra skin and underlying abdominal muscles. Next, loose skin is removed, the belly button relocated to a better place, and abdominal muscles are tightened up and repaired.
*RESULTS MAY VARY
Liposuction
Dr Frati specialises in two specialities: VASER Liposuction and power-assisted (traditional) liposuction. Both are efficient ways of maximising the potential of your abdominals, buttocks, hips, thighs, flanks, upper arms, tummy and double chin. Either treatment starts with injecting tumescent fluid to make access to fat cells easier by constricting blood vessels and reducing bleeding. However, both techniques have their differences. [2] VASER Liposuction uses ultrasound technology to break down and emulsify fat. Once fat cells are melted, they are removed from the treated area with a small cannula. On the other hand, power-assisted or traditional liposuction uses a cannula to suction fat from healthy tissue gently.
*RESULTS MAY VARY
Benefits
Mothers will receive much-needed pampering with a mummy makeover. Women love these treatments because it restores their body and self-confidence. Other benefits that await you are:
Comprehensive, dramatic body enhancements
Procedures can be performed in one appointment
Customised to meet every patient's expectation
Better options when you shop for clothes
Enhanced breast cleavage and reduced stretch marks
Restores your body to its youthful glory
Massive boost to confidence
Candidates
Healthy women who've completed the rewarding chapter of child rearing and want to restore their physique will surely benefit from this procedure. Patients notice a remarkable change in the shape of their upper bodies. You are also a good candidate for a mummy makeover if you: [3]
Have become unhappy with your body contours
Desire to rejuvenate the body
Want to adjust the size and curvature of the breasts
Have extra skin and fat resistant to diet and exercise
Are in good general health
Have realistic expectations in mind
Dr Frati is highly adept at customising every experience to patients. So, schedule a consultation to see how you can reclaim your youthful aesthetic. Or, give us a ring at+44 20 3633 2619.
Personal Consultation
Dr Riccardo Frati is an internationally renowned cosmetic surgeon practising in London, Manchester, Highgate, and Birmingham. Before creating a private practice, Dr Frati graduated from the University of Rome with honours and received world-class training worldwide. Today, he has grown his practice into four state-of-the-art cosmetic surgical centres throughout England that exceed patient expectations.
We'll learn about your ideal aesthetic goals at your private consultation. First, you'll explain your concerns and ask questions throughout the process. Then, we'll examine the body to pinpoint areas to concentrate. This helps us select which procedures in the mommy makeover package are most suitable. After we have developed our treatment plan, he'll discuss your options to obtain a new body profile. Finally, we'll give you a list of preparatory items to complete in the interim at the end of your consultation. Remember to complete them before your appointment to ensure a seamless process and excellent results.
Schedule your appointment at any one of our offices by filling out our easy online form. You can also reach us by ringing+44 20 3633 2619 to speak with a patient care coordinator. Whilst you wait for your appointment, do have a read through our informative blog post "Mummy makeover – the hottest plastic surgery in 2020".
*RESULTS MAY VARY
Preparation
Preparing for a mummy makeover is a straightforward process. Below is what you can do to prepare:
Schedule your mummy makeover experience at least three months after you've completed breastfeeding.
Avoid smoking a few weeks before surgery and throughout the post-surgery process.
Arrange for someone to pick you up from our surgical centre.
Stop taking certain medications like aspirin, blood thinners, vitamin E, and supplements two weeks before surgery.
Inform your employer you need 1-2 weeks off to recover.
Pick up medications prescribed by Dr Frati at the chemist.
Refrain from eating eight hours before surgery.
Come to your appointment without makeup, jewellery or perfume.
Procedure
Your mummy makeover is unique to your needs. However, here is a general overview of what will happen.
First, we'll administer anaesthetic for added comfort and safety.
The appropriate incisions are made for the specific procedure. Incisions are made discreetly in the natural curves of your body to ensure minimal visibility.
The excision process begins with removing excess skin, tissue, and fat from the treated areas. For breast augmentation patients, an implant is placed in the breast pocket.
Incisions are closed shut with sutures once the ideal aesthetic is achieved.
*RESULTS MAY VARY
Recovery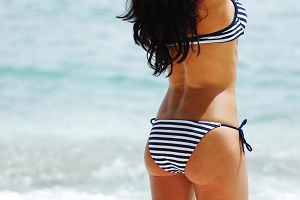 Recovery instructions will look different with each procedure. Despite this, you must rest well during your recovery. Patients should get plenty of bedrest, eat healthily, and take short walks to facilitate blood flow during the first 1-2 weeks post-surgery. Patients may experience mild to moderate feelings of tenderness, discomfort, discolouration, and swelling. Take the pain medication prescribed by Dr Frati to offset discomfort. These symptoms should go away with each passing week.
Depending on the types of procedures chosen, you may be given a support bra or compression garment to wear for a few weeks to calm swelling and hold results in place. Most patients can pick up light activities and work within 2-3 weeks; strenuous activities in another six weeks. Another vital part of your recovery is going to your follow up appointments. These appointments will remove your stitches, and ensure incisions are clean.
Results
Most patients will notice an immediate difference in their bodies. In the upcoming weeks, results will continue to improve as discolouration and bruising dissipate. Your breasts will become fuller and perkier, and your body will display poise, youth, and vibrancy. The impact of your makeover is long-lasting. Incorporating good eating habits and exercising will ensure your slimmer, youthful body will last for years to come.
*RESULTS MAY VARY
Cost
The cost of your mummy makeover is unique to you. The final price will be determined by the number of procedures included in your makeover. Financial matters will be addressed at your initial consultation with Dr Frati.
FAQ
What Is Included in the Mommy Makeover Package?
A mommy makeover is a combination of select body-contouring methods to sculpt your body to an ideal aesthetic. A tummy tuck, breast augmentation, and liposuction are frequently involved in a mommy makeover. 
Will the National Health Service (NHS) Cover These Procedures?
No. The NHS will not cover your mummy makeover because it is considered an elective cosmetic surgery. 
How Long is Recovery?
Recovery from your mummy makeover will depend on the surgeries you have had. Tummy tucks and breast augmentation can take six to eight weeks to recover. 
References
Berkel, H., Birdsell, D. C., & Jenkins, H. (1992). Breast Augmentation: A Risk Factor for Breast Cancer? New England Journal of Medicine, 326(25), 1649–1653. https://doi.org/10.1056/nejm199206183262501
Rohrich, R. J., & Beran, S. J. (1999). Is Liposuction Safe? Plastic and Reconstructive Surgery, 104(3), 819–822. https://journals.lww.com/plasreconsurg/Citation/1999/09010/Is_Liposuction_Safe_.34.aspx
The "mommy makeover" package. (2010). AMA Journal of Ethics, 12(5), 363–366. https://doi.org/10.1001/virtualmentor.2010.12.5.ccas1-1005