Breast Uplift Recovery
Conveniently located to serve the areas of London, Manchester, Highgate and Birmingham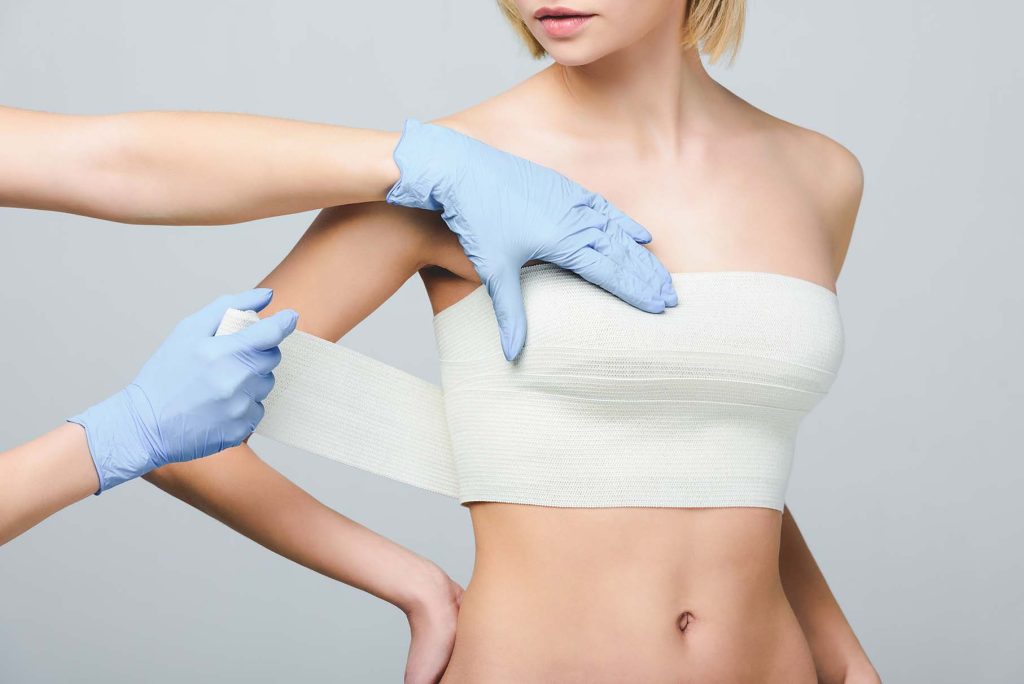 Breast uplift recovery is an important factor to consider when contemplating this surgical enhancement. Would you love your breasts if only they were lifted and firmer? Breast uplift surgery can give you the perky breasts you remember from your youth or help you achieve the breasts you've always wanted. The surgery does not use implants, so your tissue is lifted and reshaped to create a youthful breast contour.
Mastopexy (breast uplift) can bring great satisfaction to women unhappy with their breast shape and size. If you're considering this procedure, it is essential to know what to expect. Dr Riccardo Frati of Harley Surgery makes sure that his patients understand what to expect after breast uplift surgery by discussing the process during consultation. For an even deeper dive into the subject matter, read on! 
When you're ready to schedule your breast uplift consultation, call +44 20 3633 2619 in London, Highgate, Dolan Park, or +44 16 1327 2139 in Manchester.
Have you taken a look at Dr Frati's blog? Make sure you check back often for all the latest news and updates!
How Will I Feel as the Anesthesia Wears Off?
Your recovery starts the minute surgery ends. You will be taken to a recovery room, where you will be closely monitored as you wake up from anaesthesia. You may feel groggy, and your throat may be sore from the breathing tube that was inserted during surgery. You will have an IV in place to keep you hydrated and help prevent nausea. As the anaesthesia wears off, you will begin to feel more alert.
It is crucial someone drives you home after surgery. This is because you will be in no state to operate a vehicle, and the effects of the anaesthesia can last for several hours. You may also be given a prescription for pain medication to help you stay comfortable during the first few days of recovery.
What are the Side Effects of Pain Medication?
Did you know it's essential to stay hydrated while taking pain medication? It's true! 
Pain medication can cause constipation, so drinking plenty of water and eating a high-fibre diet is important. [1] You may also be given a stool softener to help keep things moving along.
It is also important to avoid drinking alcohol while taking pain medication. Mixing alcohol and pain medication can be very dangerous. [2]
Remember to take your pain medication as prescribed. It is there to help you recover and should not be used as a way to cope with stress or other emotions.
What are the First 24 Hours After Surgery Like?
The first 24 hours after breast uplift surgery are the most critical. Having someone stay with you to help care for you and monitor your progress is essential. You will need to sleep on your back with your head and torso elevated for the first few nights. You will also need to wear a surgical bra day and night for at least the first week.
You may have drains in place to prevent fluid buildup. The drains are usually removed within a few days. You will also have steri-strips in place over your sutures. These will fall off on their own within a week or two.
Swelling and bruising are common and will peak within the first few days. You can help manage swelling by sleeping with your head elevated and wearing your surgical bra. Ice packs can also help. The bruising will fade over time.
How Will My Breasts Feel After Uplift Surgery?
You may have some numbness in your nipples and skin; this is normal and should improve within a few weeks as your nerve connections reestablish themselves. Your breasts will be sore and tender for a few weeks. You will need to take it easy and avoid any strenuous activity. Use this time to catch up on your favourite show, read that book you've been meaning to start, or finally finish that jigsaw puzzle.
When Can I Resume Normal Activities?
Take it easy for the first few weeks. Avoid any strenuous activity or lifting anything heavy. You should be able to return to work within a week or two. If your job is physically demanding, you may need a few extra days or an additional week off. Wait for clearance from Dr Frati before starting any exercise; you will need to avoid strenuous exercise and activities like sex for at least six weeks.
What to Expect the First Few Days After Surgery
After your surgery, you will be given a compression garment to wear to help support your new breasts and minimise swelling. You will also be instructed on how to care for your incisions properly. You must keep them clean and dry at all times; this means no swimming or soaking in a hot tub. You will also need to avoid putting unnecessary pressure on your incisions.
How to Create a Space for Healing at Home
There are some tips and pointers we've compiled for our patients to help them have the most seamless and smooth breast uplift surgery recovery possible.
Invest in a good, supportive surgical bra to help with healing and ensure that your breasts are supported.
Arrange for someone to help you at home for the first few days. You will need help with things like child and pet care, cooking, and cleaning.
Prepare your recovery space. Make sure you have plenty of pillows to prop yourself up with and plenty of snacks and drinks on hand. Remember to make them high-fibre snacks!
Clean it up. Make sure your home is clean for peace of mind and free from obstacles that could trip you up.
Make sure you have everything you need within reach, including your medication, phone, computer, and anything else you might need while resting.
Rest is Vital
Some people think sleep makes you feel better and helps your body fight infection and heal. Scientists have found that when people don't sleep well, their bodies have a more challenging time fighting infection because their cells' signaling functions are impaired. [3] Inadequate sleep is also thought to be linked to several diseases, including an increased risk of certain forms of cancer. [4] 
So, make sure you get plenty of rest. Take naps when you can and avoid anything that could disrupt your sleep; this includes working from home, watching television in bed, and using your phone or tablet in bed.
The best environment for sleeping is:
A cool, dark room
A comfortable mattress and pillows
No noise
No distractions
Prepare your room before surgery, and make sure you have everything you need within reach.
What to Expect at Your Follow-Up Appointment
At your follow-up appointment, Dr Frati will assess your incisions, check for signs of infection, and make sure you are healing properly. He will also remove your drains if they have not already been removed. He will give you specific instructions on caring for your incisions and when you can resume normal activities.
If you have any questions or concerns, feel free to ask. Dr Frati and his staff are here to help you through every step of your recovery.
Precautions to Take Seriously
You have been instructed not to lift anything heavier than ten pounds for at least six weeks to allow your incisions time to heal correctly. Lifting anything heavier can cause your incisions to open up or stretch. You must not lift pets or children over ten pounds, which may prove difficult. Asking for help from friends or family during this time is essential.
Another necessary precaution you should take is walking as soon as possible after surgery. By avoiding prolonged bed rest, you can help reduce your risk of developing blood clots. Walking also helps to keep your energy up and speeds up the healing process.
What if You Start to Feel Sad After Surgery?
It is not uncommon to feel somewhat down or "blue" after surgery. Sometimes this is due to the anaesthesia wearing off and the reality of having undergone surgery. If you find yourself feeling extremely down, contact your doctor. You may be experiencing depression and may require medication to help you through this tough time.
When to Call the Doctor
It is normal to experience some pain, swelling, and bruising after your surgery. However, if you experience any of the following, call Dr Frati's office:
Fever
Increased pain or swelling
Redness, drainage, or foul-smelling discharge from your incisions
Difficulty breathing
Chest pain
Nausea or vomiting
Dizziness or lightheadedness
Don't worry about bothering us. We would much rather you call and have it be nothing than wait and have something serious going on.
Common Side Effects After Breast Uplift Surgery
Some common side effects come along with breast uplift surgery. These include:
Numbness: This is due to the nerves being affected during the surgery. It usually goes away within a few weeks.
Swelling: This is normal and will subside over time.
Bruising: This is also normal and will fade over time.
Asymmetry: This is because no two breasts are exactly alike. Some degree of asymmetry is to be expected, but Dr Frati prides himself on creating the perfect pair.
Scars: You will have scars from your incisions, but they will fade over time.
Pain: You will have some discomfort after surgery, but it can be managed with medication.
Your New Breasts are Waiting!
Undergoing breast uplift surgery is a big decision, but one that can change your life for the better. You can ensure a successful surgery and a smooth recovery with a bit of preparation. Your new breasts will be worth the wait, so take it easy, listen to Dr Frati, and ask him and the Harley Surgery staff for help when you need it. Before you know it, you'll be back to your old self with a brand new set of breasts!
To schedule a consultation with London's premiere plastic surgeon, call +44 20 3633 2619 in London, Highgate, Dolan Park, or +44 16 1327 2139 in Manchester.
References