Mini Facelift
Conveniently located to serve the areas of London, Manchester, Highgate and Birmingham
How is a Mini-Facelift Different from a Facelift?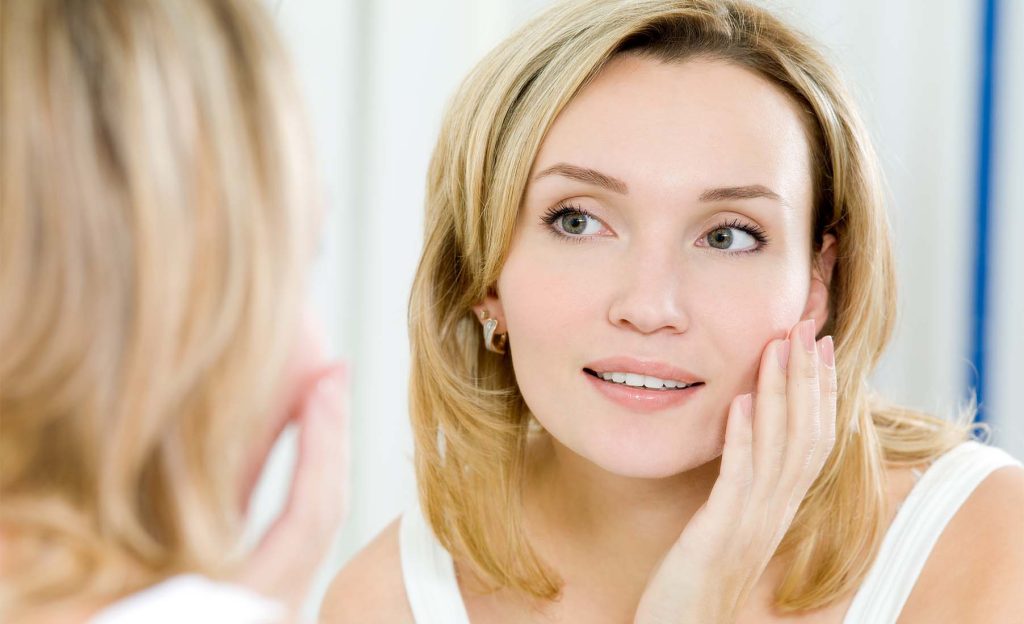 A mini-facelift is a facelift with shorter incisions and results that are less dramatic than a facelift. (1) The shortened incision length makes a significant difference in reducing surgical time and recovery. (2) While a facelift targets the entire face, a mini-facelift focuses on the lower portion of the face. With the loss of skin elasticity, the skin covering the mandible (jaw) can droop, producing an effect referred to as "jowling." Patients generally agree that nothing denotes the passage of time on the face in quite the same manner as the early appearance of jowls. In addition, patients with otherwise smooth, wrinkle-free skin can show laxity around the jawline. This minimally-invasive procedure restores youthful contours with natural-looking results.
Board-certified surgeon Dr Riccardo Frati of Harley Surgery offers the mini-facelift to his patients in London, Chelmsford, and Manchester. Frati, a featured guest speaker at the Face Conference at The Royal Society of Medicine in London, focuses on groundbreaking techniques in surgical aesthetics, which has made him one of the foremost cosmetic surgeons in London. Trust your face to a man who has devoted his life to patient care and confidence; trust your face to Frati. To schedule a consultation, contact us, and we will start you on the path to a more youthful appearance. Patients can also directly at +44 20 3633 2619.
Follow our blog to learn more about the cosmetic innovations Dr Frati uses to help his patients achieve stunning results!
Mini-Size Me
As the popularity of cosmetic procedures grows, patients are also increasingly interested in achieving the best results with reduced risk and downtime; thus, the mini-facelift was born. Moreover, cosmetic procedures attract a younger "Instagram crowd" because of the natural-looking results and the focus on maintenance rather than correction. Dr Frati's younger patients also love that the mini-facelift has near-invisible scarring because of the placement of the incisions.
Where Did the Mini-Facelift Originate?
In 1999, Dr Ziya Saylan presented the idea that when it comes to a facelift procedure, "less is more." Dr Saylan was referring to the amount of skin excised during a typical facelift. He praised the ability of the "S-lift," first introduced in the 1960s, to reduce the amount of skin removal and the appearance of a scar. (3) The mini-facelift is still a facelift, but the amount of skin removed is smaller.
What is the "S-lift"?
The "S-lift" technique only requires a short S-shaped incision in front of the ear and into the base of the temporal hairline. After removing the excess skin, the SMAS (facial musculature) is manipulated with sutures to achieve lift. Then, delicate skin draping skillfully achieves lift without pulling. Additionally, minimal scarring hides inside the ear and the temporal hairline.(4)
Benefits
The benefits of a mini-facelift will be seen for years to come, especially in younger "maintenance" patients. However, younger patients are not the sole beneficiaries; a mini-facelift is also an excellent option for secondary lifts and older patients concerned with lower-face elasticity. (3)
To lay out the benefits of a mini-facelift plainly:
Minimal scarring
Natural-looking results
Local anaesthesia (5)
Shorter surgery and recovery time
Minimal scarring
Reduced cost
Patients report increased confidence and an overall improved approach to life, which might be the most significant benefit.
Candidates
While most candidates for a mini-facelift err on the younger side, as mentioned above, the procedure can serve those seeking a second lift or older patients with laxity of the lower face. Regardless, candidates for any surgical procedure will benefit from overall health and self-care, which increases safety. Potential patients should inform themselves of the difference between a facelift and a mini-facelift by disseminating this information or chatting with Dr Frati during the consultation process. Additionally, a firm grasp of realistic expectations and the parameters of aesthetic improvement from a mini-facelift is vital to patient satisfaction.
Consultation with Dr Frati
Patients in London, Chelmsford, and Manchester can schedule an appointment with Dr Frati for a mini-facelift consultation. While here, consider bringing up any other concerns you may have – now is the time! Dr Frati helps his patients understand which of his procedures will best suit their desired outcomes. Should a mini-facelift not be ideal, he will inform you of other procedures and help you decide on a more suitable route.
To ensure each patient is a good candidate for surgery, Dr Frati will perform an exam before going over the details of the procedure and what to expect with recovery. In addition, Dr Frati's staff will provide you with a list of procedures leading up to surgery. To book your consultation with Dr Frati, call us at +44 20 3633 2619.
Preparing for a Mini-Facelift
Let us help you prepare for surgery. Dr Frati and his team will ensure you understand what to expect leading up to, during, and following surgery. Following the protocols laid out for you will ensure top results and comfort.
Dr Frati's Prep List
Arrange Transport – Please call upon a friend or family member to assist you home after surgery.
Cease Tobacco Use – Smoking can impede the healing process.
Disclose Medications – Tell Dr Frati about all medications you take: over-the-counter, prescription, vitamins, or supplements.
Pain Management – Prepare to ease your transition out of surgery and into recovery by collecting the pain medication Dr Frati prescribes before your procedure.
The Rest Is History – Successful recovery from surgery includes plenty of rest, so arrange for help where you need it: time off work, meal prep, and childcare.
Following these guidelines will prepare you for a successful recovery and beautiful results.
Mini-Facelift Procedure
From start to finish, plan on spending around five hours with Dr Frati on the day of your surgery. During the beginning of your time with us, Dr Frati's team will complete check-in and prepare you for surgery. The procedure is followed by a surveillance time to ensure patient acclimation and safety. Once the patient is stable, recovery can begin in the comfort of your own home. Please arrange for a ride home after surgery.
Local Anesthesia
The proper administration of local anaesthesia provides a safe experience for patients who will remain awake but cannot feel the mini-facelift procedure. (5) Dr Frati will decide which anaesthetic technique best suits each patient; intravenous sedation and general anaesthesia remain acceptable options.
Procedure Steps
An S-shaped incision in front of the ear and the temporal area.
Removal of excess skin.
Purse-string sutures in the SMAS.
Skin is redraped, and the incision is closed.
Recovery from a Mini-Facelift
Dr Frati will give you a wealth of information to aid your recovery, including how to care for your incisions and when to return for a follow-up appointment. In addition, we will provide postoperative directions before the day of surgery so you know what to expect and how to plan accordingly. While downtime is part of recovery, most patients were able to return to work a few days to a week later and return to normal activities within two weeks. Collect any prescription pain medication before surgery to prepare you well. Immediately following surgery, bandages and a compression wrap protect the incisions and diminish swelling. Swelling will disappear within two weeks to a month. (1) Remember that your final results will not be visible immediately due to possible swelling, so keep a positive outlook as you heal. Before you know it, you will be stunned by your mirror image.
Now is the time to ask friends and family for help. Arrange for a ride home and ask for help in those first few days after surgery; you will not regret it.
Results
The results of a mini-facelift will first depend on the specifics of the individual patient. Facial structure, the amount of skin laxity, patient health, and realistic expectations will contribute to the outcome and patient satisfaction. The short scar, or mini-facelift, lifts and tightens the lower midface but may also affect the midface and upper neck. During your consultation, Dr Frati will discuss the expected results of your surgery, so you will know what to expect. Because the mini-facelift also means shorter operative time, reduced expense, and a quicker recovery, the procedure has rapidly increased in younger patients. (6) Also, if there are any other areas of your skin or silhouette you would like to address after your procedure, Dr Frati can help!
Corresponding & Complementary Procedures
Dr Frati offers a range of services to take you to the stunning level you seek. While most patients are content with their mini-facelift results, others wish to explore the aesthetic possibilities of a skilled surgeon such as Dr Frati. Consider the following if you are thinking of an additional cosmetic revamp:
Dermal Filler – add volume and restore balance to your overall facial structure. Dermal filler can be effective for many different areas of the body.
Hydrafacial – the latest innovation in resurfacing, a Hydrafacial exfoliates and rehydrates the skin.
Botox – the go-to wrinkle eraser addresses fine lines and deep folds; this is an incredibly effective complementary procedure for areas of the upper face that a mini-facelift does not affect.
What is the Cost of a Mini-Facelift in London?
Dr Frati will discuss the cost of your mini-facelift during your consultation. So contact us today to schedule an appointment and be on your way to a lifted, contoured jawline and renewed confidence! Call +44 20 3633 2619 or fill out an inquiry form, and we will be in touch shortly.
References