Advanced Breast Augmentation
Conveniently located to serve the areas of London, Manchester, Highgate and Birmingham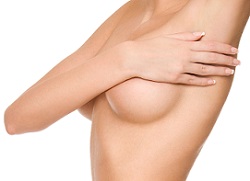 Enhanced Results That Will Take Your Breath Away!
The next level in Breast Augmentation is here. Dr Frati has an international reputation as a top breast enhancement expert. His exclusive list of patients is bedazzled by the names of models, celebrities and top trending Instagram influencers. Advanced Breast Augmentation is Dr Frati's contribution to his profession. It may be his legacy, if not his masterpiece.
The arresting results of Advanced Breast Augmentation will take your breath away. The procedure employs the smallest possible incisions. It also features a pleasantly short recovery period that allows you to get back up and start living your life almost immediately.
About
Advanced Breast Augmentation at Harley Surgery is the next big thing. If you are like many women, the size, shape or orientation of your breasts might be something that bothers you. Dr Frati is here to help. His Advanced Breast Augmentation was designed to enhance the natural beauty of every woman.
The fundamental advantages of the procedure are its concepts of stealth incisions and invisible scarring.
Dr Frati is a skilled and experienced surgeon. In his hands, a scalpel is like a paintbrush and the incisions are his art. He conceals the signs of his knifework within the existing mammary crease. "Stealth scarring" is the practice of calibrating the size of the incision to the size of the breast implant. A 300cc breast implant requires a 28 to 30mm incision, for instance. While a 400cc implant will need a slighter larger 35 to 40mm incision. Implants larger than 500cc have a 5cm entrance.
At the conclusion of an Advanced Breast Augmentation, Dr Frati closes the surgery site in three painstaking layers to minimise tension. Each layer must be meticulously sutured to avoid gaps and uneven wound edges for clean, invisible healing.
Advanced Breast Augmentation represents a breakthrough in the field. Dr Frati enjoys keeping his patients informed of all the latest advancements on the Harley Surgery blog.
Fast Recovery
Advanced Breast Augmentation's rapid recovery is what truly puts it ahead of the rest. To encourage quick healing, Dr Frati will prepare the surgical site, pre-op, with anaesthetic infiltration. This will reduce intraoperative and perioperative bleeding. Dr Frati's preparation will also dampen possible discomfort immediately following your surgery.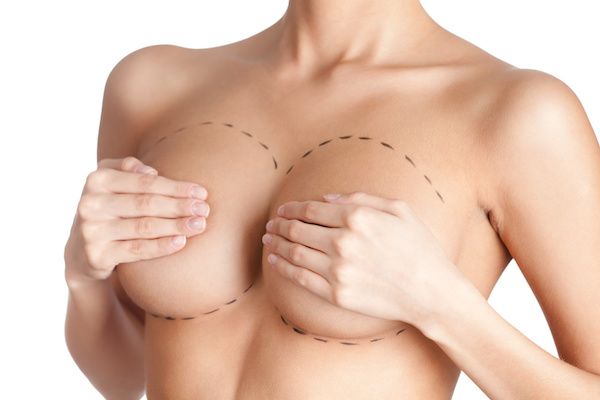 With your recovery in mind, Dr Frati makes his incisions using a diathermy-assisted dissection.[2] The doctor does not practice blunt dissection, which can cause additional bleeding and bruising. Before he sutures your final stitch, Dr Frati will inject a local anaesthetic into the implant area. This will guarantee a longer analgesia to ease your transition from surgery into recovery.
Dr Frati asserts with pride that his Advanced Breast Augmentation patients will experience an immediate return to social life after 72 hours!
You may experience some swelling, discomfort and bruising during your first two to three days, post-op. This is common. You can easily manage your pain with ice packs and prescription medication.
Who Is the Best Doctor for Breast Augmentation?
Dr Riccardo Frati is a world-renowned plastic surgeon and a thought leader in breast augmentation. He makes frequent media appearances because he is the one who makes the stars shine.
Dr Frati sure knows how to stir the pot. His scorching hot patient reviews are ready to boil over! His magic touch and time tested techniques drive the latest developments in the industry. Dr Frati has risen the bar once more with Advanced Breast Augmentation. The sophisticated London look just got a little more luscious. Be alert! The results are simply bewitching.
Dr Frati is a great lover of beauty. He has devoted himself to promoting beauty in the world.
When you schedule your consultation at Harley Surgery, it will be your turn to set free the unbridled beauty within you. Dr Frati's aesthetic philosophy is informed by his deep appreciation of Greek and Roman sculpture. He feels a kinship with the ancient masters who, with simple bronze tools, created immortal works of transcendent beauty.
Your Personal Consultation with Dr Frati       
Make it a date at Harley Surgery. Phone 0203 633 2619 to set an appointment. The doctor is currently seeing new patients in a virtual manner! Book your Virtual Consultation from the secure comfort of your own home.
How Will My Breast Implants Look at First?
We talk about results so much in plastic surgery. But breast augmentation is really a process. Your implants will take a few months to "settle" before the full flowering of your fabulous chest.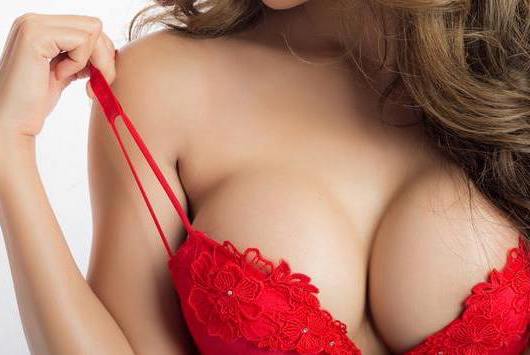 Your brand new breast implants start out high and tight. They may even appear smaller if they were placed under the pectoral muscles. Stiff resistance from your skin and muscle tissue compresses the freshly-placed implant. But, like a gentle, cleansing yoga stretch, tight spots in your chest will eventually succumb to gentle, steady pressure. Try to orient your thoughts and breath on a receptive wavelength. Invite your body to release its grip on your breast implants.
The highly anticipated resolution to this introductory ordeal will be when your breast implants "drop and fluff." Drop and fluff is the common description of how your implants eventually settle in to where you can expect to enjoy them for the duration of their lifespan.
Communicate with Dr Frati at Your Personal Consultation
The science of breast augmentation is faced with a unique challenge. It is a challenge of metrics. The sizes of breast implants are rendered in cubic centimetres (cc), a 3D measurement of the volume of liquid (silicone or saline) which fills the silicone shell.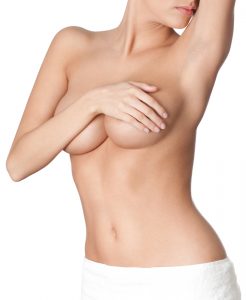 Women have eternally related to their breasts in terms of cup size—an entirely different unit of measurement developed by the garment industry to sort its inventory of women's bras. The issue is that cup size is not a scientific unit of measurement. It is an inconsistent industry norm in underwear manufacturing. But women can't help but to think of their breasts in terms of cup size. They have been buying bras for years.
Because the means of converting cubic centimetres into cup size does not exist on any slide rule, Dr Frati keeps display models of many breast implants lying about the office. This helps his patients to better visualize their ideal breast size. In fact, please feel free to bring your favourite bra to your personal consultation. You can look into several different sizes and styles of implant to see how they may sit in your bra.
What Does Advanced Breast Augmentation Cost in London?
Your Advanced Breast Augmentation procedure will be one-of-a-kind because Dr Frati customizes his approach based on the individual needs of the patient. The doctor has often described his transformational procedure as a beautiful investment, rather than a cosmetic expense. He is Aphrodite's humble servant; Dr Frati believes that spreading beauty in the world is intrinsically worthwhile.
The doctor is currently seeing new patients in a virtual manner! Consider scheduling a Virtual Consultation to get the conversation started.
For his courageous patients, Advanced Breast Augmentation may also be an investment in their self-esteem and their feminine power. The power of beauty is a receptive energy that can persuade, disarm, allure, arrest and even demand. You don't have to be a world-famous plastic surgeon to understand that the demands of a beautiful woman hardly ever go unheeded.
Schedule a consultation at Harley Surgery where the Dr Frati will prudently quote you an accurate cost estimate for Advanced Breast Augmentation. Call our London office at 0203 633 2619.
FAQ
What is the most common breast implant size?
The most popular implant sizes range between 350 and 400 cc's. We can now approximate with some scientific certainty that a breast implant of about that volume could comfortably fill the capacity of a medium C cup bra. The data indicates that many women prefer noticeably subtle enhancement.  
How many cc's are in a bra cup size?
It is awe-inspiring to watch human ingenuity boldly seek the elusive answers to persistent questions. A study published in a 2017 edition of the journal Plastic and Reconstructive Surgery proposed a unification theory that might accurately convert breast implant measurements (cubic centimetres) into cup size. If the study's findings are accurate, then the Tower of Babel could finally fall. Plastic surgeons and their patients could finally speak the same language in regards to implant size. The study's scientific team did a volume calculation on several brands of bras. They used three-dimensional reconstructions of the bras based on serial radiographic data. The breakthrough: 130 to 150cc equals one cup-size of increase.[2] 
References
Jacobson, J. M., Gatti, M. E., Schaffner, A. D., Hill, L. M., & Spear, S. L. (2012). Effect of Incision Choice on Outcomes in Primary Breast Augmentation. Aesthetic Surgery Journal, 32(4), 456-462. doi:10.1177/1090820×12444267
King, N., Lovric, V., Parr, W. C., Walsh, W. R., & Moradi, P. (2017). What Is the Standard Volume to Increase a Cup Size for Breast Augmentation Surgery? A Novel Three-Dimensional Computed Tomographic Approach. Plastic and Reconstructive Surgery, 139(5), 1084-1089. doi:10.1097/prs.0000000000003247