Microdermabrasion
Conveniently located to serve the areas of London, Manchester, Highgate and Birmingham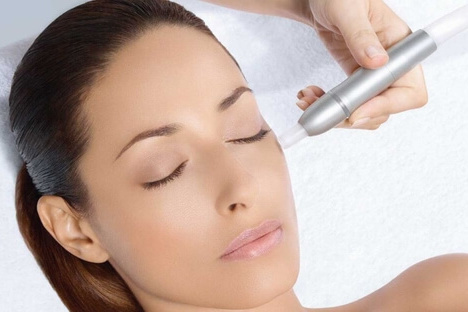 For some of us, the natural ageing process can take its' toll and our skin begins to look tired, dull, dry and dehydrated. Many of us will look to for a non-invasive process to revitalise and rejuvenate our skin and common concerns that may have distressed us, such as acne, scarring and sun damage may also need some better attention.
When creams and lotions will no longer combat our skin issues, there is a treatment which is considered a form of "instant face lift" to bring back a newer, fresher and more youthful appearance and this treatment is called Microdermabrasion.
From his Harley Street clinic, Dr Riccardo Frasi, offers microdermabrasion as a fast and effective way to revitalise and smooth the skin.
What skin conditions can microdermabrasion treat?
The following skin concerns can be effectively treated with Microdermabrasion and is suitable for both men and women:

• Fine lines and wrinkles
• Sun damaged skin, superficial age spots, hyperpigmentation
• Acne prone and oily, congested skin with black and whiteheads
• Dry, patchy or uneven textured skin
How does the treatment work?
The treatment uses medical grade crystals to remove dead and dull skin cells, to reveal the new, living cells beneath, which give a that refreshed look and promotes new collagen formation for long term rejuvenation. The crystal microdermabrasion system contains a pump, a connecting tube, a hand piece, and a vacuum. While the pump creates a high-pressure stream of inert crystals, such as aluminum oxide, magnesium oxide, sodium chloride, and sodium bicarbonate to abrade the skin, the vacuum removes the crystals and exfoliated skin cells. Alternatively, the inert crystals can be replaced by a roughened surface of the tip in the diamond microdermabrasion system.
How long does it take?
The treatment itself takes around 30 minutes and you will be able to see improvement in skin tone and texture after every treatment. In most cases there is no recovery time, apart from a mild pink glow which will fade after around an hour; therefore, you can have this treatment prior to a special party or event, so that your skin is glowing and radiant.
When will I see the results?
In most cases, the results of a microdermabrasion can be seen immediately, where a smoother, softer and more youthful looking skin is achieved. However, for concerns such as acne, acne scarring, wrinkles and hyperpigmentation, a course of treatment will be recommended to you. Microdermabrasion can be done as frequently as weekly or up to every eight weeks depending on your skin's tolerance and desired cosmetic effects. Many people choose to start with weekly treatments for three sessions, then change to a monthly maintenance regimen. You will be advised on the best course of treatment for your individual concern.
Are there possible side effects to microdermabrasion?
Potential side effects of microdermabrasion are minimal and this is a very safe procedure. Potential drawbacks are very limited in that microdermabrasion only affects the epidermis which is the outermost skin layer. Common minor, temporary side effects include slight skin tightness, redness, bruising, and sensitivity. As a general rule, the greater the potential benefits with a cosmetic treatment, the greater the potential risks and side effects. The possible risks with more aggressive treatments like dermabrasion and laser are much greater than microdermabrasion.