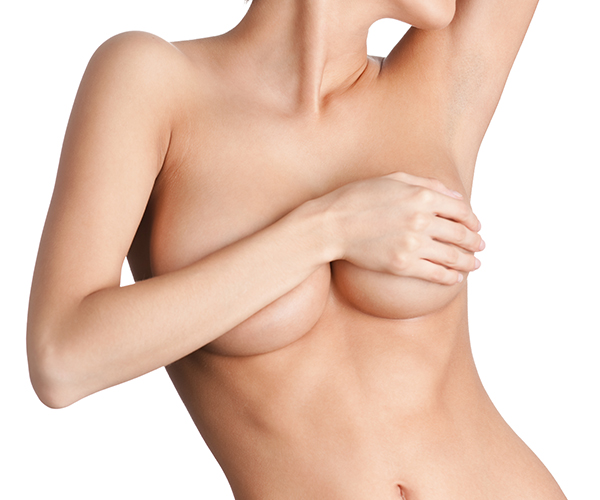 Breast implant revision is a cosmetic surgery procedure that modifies current breast implants. Women choose to undergo breast implant revision surgery for a variety of different reasons. Typically, patients choose to revise their implants for medical reasons, cosmetic reasons, or a combination of the two. If a patient's current implants are causing discomfort due to rupture or displacement, if their implants give their breasts an asymmetrical appearance, or cause pain as a result of a condition known as capsular contracture, they should seek a breast implant revision surgery. Other reasons to revise breast implants include changing from saline to silicone (or vice versa), altering the size, shape, or projection of the breasts, or, renewing a youthful aesthetic with a pair of contemporary implants.
Women in London can take full advantage of the breast implant revision services offered by Dr Riccardo Frati at Harley Surgery. With extensive surgical training, and many years of experience in plastic and reconstructive techniques, Dr Frati provides his patients with breast enhancement and reconstruction procedures to restore their aesthetic contours and confidence. If you're dissatisfied with your current breast implants, and wish to schedule revision surgery, call +44 20 3633 2619 or fill out a convenient online inquiry form with your request.
About Breast Implants
Breast Implants: A Snapshot of Their Recent History
Surgeons use two types of breast implants in breast augmentation procedures; saline or silicone. During the early 90s in the United States, the Food and Drug Administration (FDA) placed a moratorium on silicone implants in an abundance of caution, due to an alleged link to certain autoimmune diseases. After this, saline-filled implants became the default choice. However, surgeons found that saline implants led to increased instances of rupture and deflation, and problems with underfilling and overfilling. (1)
Subsequent in-depth studies have not revealed silicone implants to cause any higher risk of disease than saline ones. But the fact remains that whatever style of implant you chose in the past, it may not necessarily be working for you now. That's why having the option to revise your breast implants is so important.
Problems with Breast Implants
Ptosis/Asymmetry – Sometimes referred to as the 'waterfall effect,' sliding ptosis of breast tissue over implants can alter the shape of the breasts, resulting in unwanted sagging and asymmetry. This is particularly common in patients whose implants no longer "ride high" on the chest. (2)
Capsular Contracture – Capsular contracture is one of the most common reasons women choose breast implant revision. It occurs when the body reacts with an immune response to implants. This excessive fibrotic reaction to a foreign body (3) can lead to unwanted symptoms such as misshaped or unnatural-looking breasts, pain, asymmetry, tightness, and abnormal firmness.
Rupture – Implant rupture happens when the outer shell of the implant develops a tear or a hole. Because of this loss of integrity, fluid can leak or migrate to other areas of the body, increasing the risk of infection and more serious complications.
Rippling – Also known as wrinkling, implant rippling is one of the first signs of implant rupture. It refers to the rippled appearance of breast tissue on the chest because of insufficient soft tissue coverage.
Bottoming Out – "Bottoming out" is a term given to when the implant is too low, and the nipple sits too high, causing too much implant to reside lower on the chest. ​​This is because the inframammary fold (the natural lower boundary of the breast) has descended, and the bottom of the implant has become displaced, causing asymmetry.
Symmastia – Sometimes colloquially known as a "uniboob," symmastia is the medical term to describe when the implants move closer together on the chest, or when they are placed too close together in the chest originally, causing the border between the breasts to be compromised. This aberrant shape can lead to embarrassment, and difficulty wearing undergarments and tops.
Breast Implant Revision By the Numbers
Breast augmentation has remained one of the most popular cosmetic surgeries worldwide. In one study investigating patient motivations for breast implant revision, researchers analyzed a group of women's experiences. Among cosmetic implant patients, breast ptosis (sagging) was the most common, with 42% of participants stating it as the main reason for their breast implant revision. In second and third positions were capsular contracture (when the immune system reacts to the implant, causing pain) at 29%, and lower breast deformity (19%). Roughly one-quarter of the patients surveyed had a combination of problems. (4) These figures are similar to the general percentages found in most plastic surgery practices.
Benefits
Breast implant revision can provide a more aesthetically pleasing silhouette for women experiencing unwanted symptoms or side effects from their current implants. Patients who undergo breast implant revision are often far more content with their new appearance, as their contours and confidence have been restored! This, in turn, can lead to improved body image, better overall wellbeing, and enhanced quality of life. If you have suffered in silence because of misshapen implants, if your implants are causing you discomfort, or if you want to change your implants to a different size, shape, or material, a breast implant revision procedure is a logical and effective choice! Call Dr Frati's Harley Street offices at +44 20 3633 2619 or contact us via an online form to discuss your breast implant revision further.
Candidates
Breast implant revision is a good fit for women who:
Want to change the size or position of their breasts
Want to switch breast implant types
Want to exchange old implants for new
Have implants that have shifted in position
Have capsular contracture
Have asymmetry and/or ptosis because of their implants
Have other aesthetic or medical symptoms that warrant change
Personal Consultation
Breast augmentation surgeries are deeply individual and often come with additional body image issues, particularly if a prior surgery has not produced satisfactory results. We trust our surgeons to get things right, and when things don't go as planned, it can be disheartening. This can leave us feeling like what is happening to our body is out of our control.
If something has gone wrong with your implants, you might feel embarrassed, self-conscious, or afraid to wear a bikini. Dr Frati will allay your fears and use his surgical skills to help restore your self-image. In a personal consultation, you will discuss the problems you have encountered with your implants in a private setting. He will take your medical details and perform a breast exam. The assessment will pay particular attention to where your implants are sitting on your chest, the symmetry of your breasts, any wrinkling or skin abnormalities present, and if you have been experiencing discomfort. Please speak with Dr Frati if you are planning on becoming pregnant or want to lose weight, as this may affect your results.
Preparation
Before your breast implant revision date, you may need to have lab testing, a mammogram, ultrasound, or an X-ray, depending on your circumstances. In the days and weeks before your procedure, you should:
Stop smoking entirely
Arrange time off work with your employer
Avoid aspirin and anti-inflammatory drugs (such as ibuprofen)
Adjust/begin taking medications
Get a medical evaluation
Implant Revision Procedure
Breast implant removal surgery is conducted under general anaesthesia. Dr Frati will carefully make incisions into the breast tissue and remove your implants. He will then replace them with the new implants of your choice. The procedure can take anywhere between one and three hours to complete. You may be fitted with a compression garment to aid healing. Once you are out of surgery, Dr Frati and his team will monitor you while the anaesthesia wears off, and you'll be free to go when you are ready.
Recovery After Breast Implant Revision
Recovery can vary from patient to patient. Much like your original breast augmentation, your body will need time to heal. Thankfully, recovery after a revision surgery is usually simpler. In the days after your implant revision, the area may be swollen, itchy, or bruised, which may cause discomfort. Please follow the detailed aftercare instructions given to you by Dr Frati.
Complementary Procedures
Breast Lift – Some patients opt for a mastopexy, or Breast Uplift, when they receive their breast implant revision treatment. Many women experience breast sagging, or ptosis, which develops with age and can contribute to asymmetry. This procedure restores the position of the breasts on the chest to a higher, more youthful position.
Breast Reduction – Similarly, if your larger breasts are causing you discomfort, you may consider Breast Reduction surgery. Some patients without implants receive this type of surgery because their natural breasts are causing back and neck pain, however, large implants can have this effect too. This procedure usually involves inserting new, smaller implants after your old implants are removed.
Cost of Breast Implant Revision in London
The treatment plan for your breast implant revision will be an individual schedule based on your personal goals. Due to this, the cost of each procedure varies. Schedule a consultation with Dr Frati to discuss your options at your earliest convenience.
Follow Dr Frati on Facebook and Instagram for more information about plastic surgery procedures, real results in his patients, and monthly specials!
FAQ
Can I switch implant types with a breast implant revision procedure?
Yes! During a breast implant revision procedure, your surgeon can replace your old implants with your desired choice of implant.
My breasts aren't the same size or in the same position after my breast augmentation, what can I do?
If you notice asymmetry between your breasts that persists long after the healing period, you may need a breast implant revision procedure to adjust them. Speak to your surgeon and have a clinical evaluation before taking the next steps.
What is capsular contracture in breast implants?
Capsular contracture is a condition some women face when their body resists breast implants. It is an immune response that can cause pain, skin tightening, and breast firmness. If you suspect you have capsular contracture, seek medical advice and testing.
References